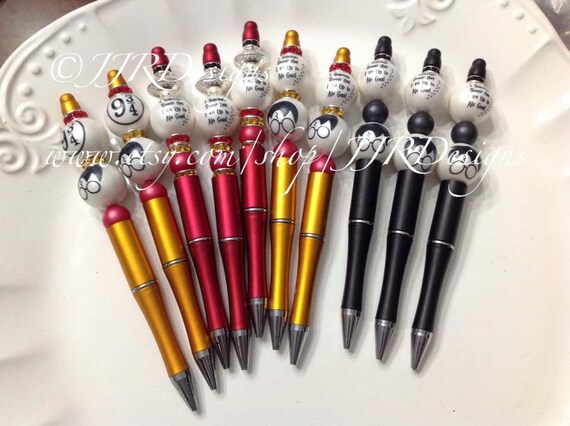 Wizard Pens- Wizard Gift Pens- Beaded Pens- Beaded Wizard Pens- Wizard Pen Gift- Wizard Pen Gift- House Beads
By JJRDesigns
Product Info
This listing is for a beaded pen and goes from LEFT TO RIGHT:
GOLD & 9 3/4 PEN- 2 AVAILABLE
RED & I swear- 1 AVAILABLE
GOLD & I swear- 1 AVAILABLE
BLACK- 3 AVAILABLE
THE SILVER BEAD IS NOT AVAILABLE ANYMORE AND WILL BE SUBSTITUTED. SOME SMALL PEN BEADS MAY VARY.
CUSTOM HOUSE BEAD PEN AVAILABLE. Picture of HOUSE beads on 2nd photo of listing.
EACH PEN COMES WITH 1 REFILL.
We can also make custom pens and have Wizard Keychains available!