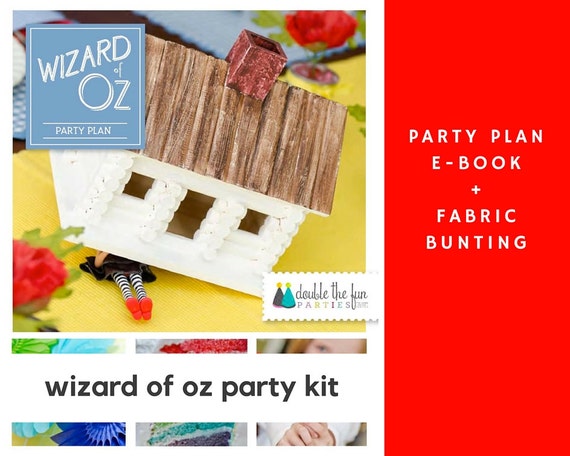 Wizard of Oz Party Kit: Wizard of Oz Party Plan + Wizard of Oz Bunting + Wizard of Oz Party + Wizard of Oz Party Decor
By Double the Fun Parties
Product Info
Does your daughter want to go off to see the Wizard for her birthday party? Break out the ruby red slippers! This party plan will take you over the rainbow to celebrate highlights of the movie classic. Make your celebration easy with my Party Kit!
YOU GET:
* Party plan eBook - sent to your email
* Fabric bunting - mailed to you within 3 days of purchase
*************************************
ABOUT THE PARTY PLAN
This 50+ page party plan is a PDF that includes suggestions for:
* Party printables (printables are not included)
* Decorating
* Menu
* Dessert table styling
* Games, crafts and activities
* Favors
* Favor packaging
* Budget estimator (and ways to reduce costs)
* Links to shop for your party online
* Advice on picking the party location, day and time
* Crafting tutorials
* 4-week party prep guide
* Day of the party schedule
BONUS DOWNLOADS
With the party plan, you also get 4 bonus downloads:
* "I would ask the Wizard for..." craft insert
* Tin Man hat template
* "Who Am I?" game names
* Yellow brick road template
YOUR WIZARD OF OZ PARTY ...
At your Wizard of Oz party, your guests will:
* Enjoy the Lollipop Guild Candy Shop
* Make Tin Man keepsakes
* Stuff the Scarecrow
* Make rainbow necklaces
* Have Professor Marvel tell their fortune
* Pose as their favorite character in a photo booth
* Learn the "Dorothy" skip
* Take home their own framed request for the Wizard of Oz
* Melt the Wicked Witch
* Break a rainbow pinata
AGES
This party is perfect for girls and boys ages 3 and up.
NOTE ABOUT PRINTING
My Party Plans are designed to be viewed on your computer, tablet or phone. While you can print them, they are set up in spreads, so the pages will be small when printed. If you view the PDF on your e-device, you'll be able to click all the shopping links with ease. So, save a tree -- and all that expensive printer ink -- and view the plan on-screen. :-)
The individual page PDFs included with your purchase are designed to make those particular pages easy for you to print.
*************************************
ABOUT THE FABRIC BUNTING
My garlands are very full and neatly hand-tied. And, they are reusable! Just drape from a hanger until you're ready to party again.
FEATURES
* Fabric ties, cut with pinked edges
YOU CHOOSE DOROTHY or ALL CHARACTERS BUNTING
Dorothy bunting...
* Blue gingham fabric
* Red sequin fabric
* Yellow fabric
* Red grosgrain ribbon
OR
All characters bunting...
* Blue gingham fabric for Dorothy's dress
* Red sequin fabric for the Ruby Red Slippers
* Yellow fabric for the Yellow Brick Road and the Cowardly Lion
* Pink with crystals fabric for Glinda the Good Witch
* Green sequin fabric for the Land of Oz
* Black fabric for the Wicked Witch of the West
* Hay patterned fabric for the Scarecrow
* Silver taffeta fabric for the Tin Man
* Red grosgrain ribbon
GREAT FOR
* Decorating a mantel
* Hanging above or in front of a dessert table
* Photo booth
* Decorating a nursery
SIZE
* 3 feet of fabric ties + 2 feet of ribbon on either end for hanging
* Each tie is approximately 10" long
Just re-fluff the ties for maximum fullness after shipping.
*************************************
CUSTOMER REVIEWS
"5 stars! Absolutely adorable! thank you very much!!!" - Teresa
"5 stars!" - Delina
"very detailed i absolutely adore it" - Nicole
"Five stars!" -- Jessica
"Oh wow! It is amazing! Thanks so much." -- Julie
"Five stars!" -- Bridget
*************************************
COUPON
When you purchase from The Party Teacher, I'll send you a thank you coupon for 10% off Bird's Party Shop -- a great place to find all your party supplies, party decorations, party tableware, cupcake supplies and cute party favors and packaging!