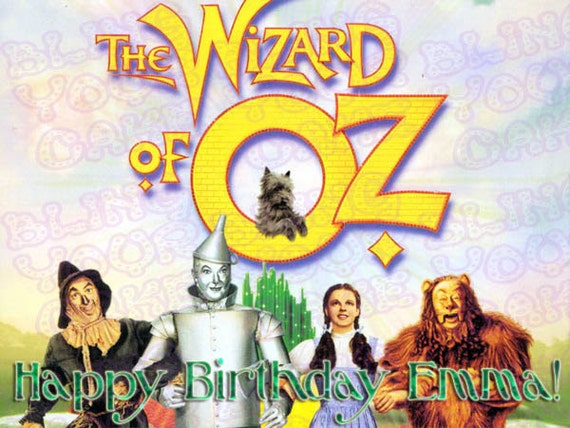 Product Info
You will receive one (1) The Wizard of Oz Dorothy & Friends at the Door Edible Icing Sheet Cake Decor Topper. Image will be produced on your choice of:
One Quarter (1/4) Sheet Edible Icing Sheet, measuring approximately 7" x 10"
or
One Half (1/2) Sheet Edible Icing Sheet, measuring approximately 11" x 16"
Transform your freshly-frosted cake with this lovely icing sheet. Simply peel and place and you've got a cake any Oz fan would be proud of!
It features a "Happy Birthday" message at the top. Make the sheet uniquely yours by adding your child's name.
Once the sheet(s) arrives, just peel it off the backing sheet and place it on your freshly frosted dessert! So easy!! If you have any problem peeling it off, just pop the entire sheet in the freezer for a few seconds, and it will lift away easily. Be sure you place them before your frosting "crusts" so that they can be absorbed into the frosting and become a part of the cake. If your frosting has crusted, mist the icing lightly with water to re-moisten it and then apply the icing discs. DO NOT spray the icing discs or the inks could run.
All frosting and ink ingredients are FDA approved, all materials that come in contact with the edible portion of the product are FDA approved.
Not using your frosting sheets right away? No problem. Simply keep the package sealed and unopened and away from direct light until you are ready to use it.
Cake, icing and board not included.