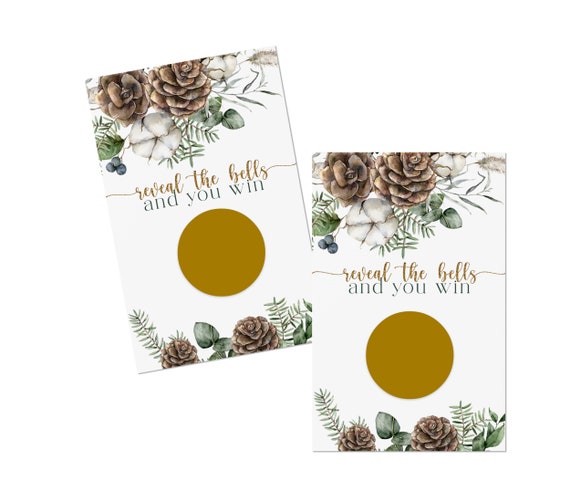 Winter Pine Scratch Off Game Cards 30 Pack Christmas Party Games Holiday Raffle Ticket Drawings Wedding Baby Shower Greenery and Gold
By Paper Clever Party
Product Info
Winter Pine and Greenery Scratch Offs: Pack of 30 Cards Total – 25 "Losing" + 5 "Winner" Cards. Bonus– Winners Bagged Separate from Losing Cards – Quickly know how many prizes you want to have on hand for your Christmas Party Themed Event.
In You Order
• 30 total Scratch Off Game Cards
• 25 Losing Cards and 5 Winning Cards = 30 Total Cards
• No reindeer games, we always bag winner cards separate from losing cards
Easy enough to play, family, friends, coworkers and Santa's elves will love trying their luck by scratching the seal on the game card, competing to see if their ticket wins a game prize. Scratch offs are 2" x 3.5" inches, business card size. Real foil sticker seal: use a hard-edge coin or key. Sticker seals are durable and will not accidentally scratch or rub-off off before you are ready to play.
Some of the favorite ways to use
• Use scratch offs to break the Ice - hand to each party goer upon arrival or throughout your holiday theme event
• Added party decoration display at each Christmassy table setting - (guests will want to scratch instantly)
• Tie Breaker for other games – quick mini game
• Use in place of raffle tickets – as a business giveaway – party favors – door prizes
Playing options are endless, get creative and have some Christmastime fun! Scratch Off Game Cards are the best and handy for any function or event you can imagine. Each package of scratch off games by Paper Clever Party is designed and printed in the USA, hand packed with care at our PA facility. Add to sleigh (cart) for this year's merrymaking. Add to sleigh (cart) for this year's merrymaking. Season's Greetings!