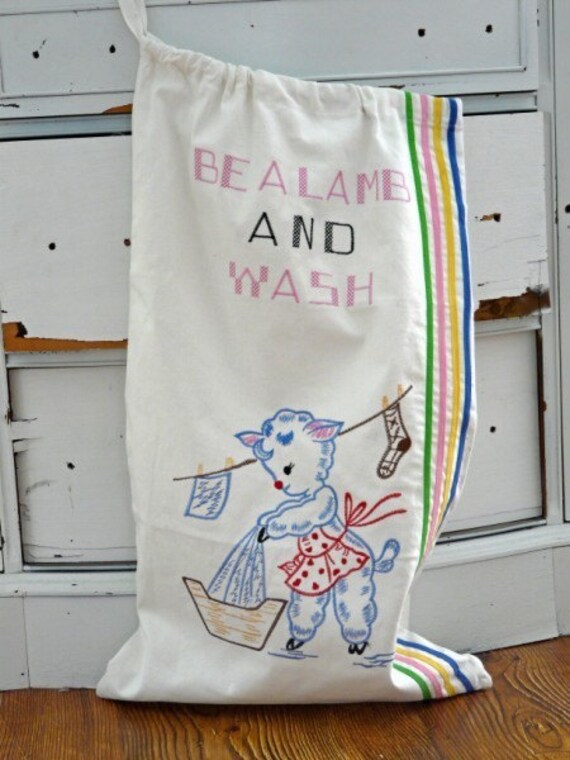 Ready to Ship Wholesale/Wedding Party/Gift Lot of 10 Retro Vintage Inspired Embroidered Laundry Bag Be A Lamb and Wash
By Silver Spoon Scraps
Product Info
These are ready to ship! Get them fast!
This is a requested listing! This is for a lot of 10- count'em 10 laundry bags! You can resell them in your boutique, give them as gifts ( wedding party, reunions) or keep some for that last minute gift- you know when you get invited to a party and don't know what to bring? I bet they don't have one of these! The value is amazing at $15.00 each you can easily resell for $25-30 each. If you would like other wholesale items or a different quanity please email or visit my website.
*Sorry no personalization available on these, they will ship as shown.
Fresh Laundry from the outdoor clothesline just like Grammy use to make, this laundry bag will take you back so close you can smell it! If you are looking to add a little fun to that household chore how about gathering up all those clothes into our retro laundry bag. Bag was fashioned after one of our favorite vintage finds. We remade it with a super sturdy 100% cotton canvas. Bag measures approximately 16 x 28 roomy enough for those big loads. Great to take when traveling to stash all your dirty clothes and keep them seperate. We embroidered this fun little saying "Be a lamb and wash" along with a completely retro lamb wearing a red polka dot apron doing what else but hanging the wash. Makes a wonderful gift, and exclusively ours so you won't find this anywhere else. Do grammy proud and try hanging those clothes to dry!