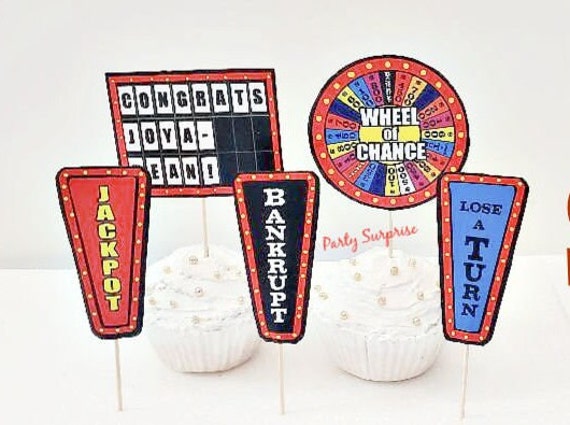 Wheel of Chance Game Cupcake Toppers Custom Made for You with Personalized Letter Board Game Night Kids Birthday Party Cupcake Toppers
By Party Surprise, Etsy
Product Info
Fun Wheel of Chance Game cupcake toppers, perfect for game night, casino parties, bachelor parties, birthday parties, and more!
Custom Hand Made for you!
Personalize letter board!
Made of strong card stock, attached to wooden stick, same on both sides.
Measures about 3" high.
Photo number 2 above from a happy customer.
**********************************
HOW TO ORDER:
* Go to the DROP DOWNS in the ORDER box, select the number of toppers you want.
* ADD to your cart.
* Repeat to add more items.
* When checking out, write what you would like the letter board to say.
ALSO AVAILABLE:
* Wheel or Letter board CAKE topper
* Banner made of all pieces
Add from the drop down in the order box, add to your order
* For more casino items:
www.etsy.com/shop/PartySurprise?ref=shop_sugg&search_query=casino
* Cupcake Wrappers:
www.etsy.com/shop/PartySurprise?ref=shop_sugg&search_query=cupcake+wrappers
Free standard shipping for orders $35.+
***********************************
Don't forget your balloons, balloon arch/garland kits, photo prop sets, fancy straws, tableware sets, mini popcorn boxes, Euro gift bags, gift/favor/treat bags, tissue tassel garlands & balloon tails, custom wedding confetti wands, party tableware, disposable cutlery, cake toppers, and cupcake toppers & wrappers - I have what you want!
Balloon color and size charts here:
www.etsy.com/shop/PartySurprise?ref=hdr_shop_menu&search_query=color+chart
Confetti Balloons & Table Confetti:
www.etsy.com/shop/PartySurprise?ref=shop_sugg§ion_id=25395318
Hot Air Balloons:
www.etsy.com/shop/PartySurprise?ref=shop_sugg&search_query=hot+air+balloon
Balloon arches/garlands:
www.etsy.com/shop/PartySurprise?ref=shop_sugg&search_query=garland
Photo Prop Sets:
www.etsy.com/shop/PartySurprise?ref=shop_sugg§ion_id=22959761
Disposable Cutlery:
www.etsy.com/shop/PartySurprise?ref=shop_sugg&search_query=cutlery
Fancy Straws: www.etsy.com/shop/PartySurprise?ref=hdr_shop_menu§ion_id=14449328
Party Tableware:
www.etsy.com/shop/PartySurprise?ref=shop_sugg§ion_id=15478643
Mini Popcorn Boxes: www.etsy.com/shop/PartySurprise?ref=hdr_shop_menu§ion_id=15478643
Tassel Garlands: www.etsy.com/shop/PartySurprise/items?ref=pagination§ion_id=19770755
Custom Number Cards:
www.etsy.com/shop/PartySurprise/items?ref=pagination§ion_id=19936436
Cupcake Wrappers: www.etsy.com/shop/PartySurprise?ref=hdr_shop_menu&search_query=cupcake+wrappers
Cupcake Toppers: www.etsy.com/shop/PartySurprise?ref=hdr_shop_menu&search_query=cupcake+topper