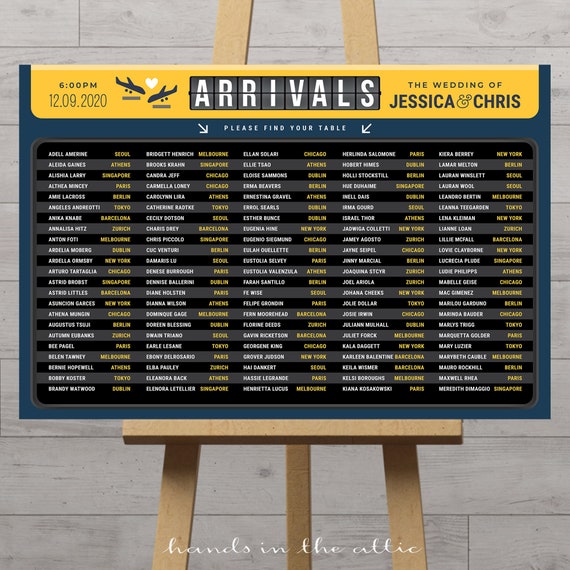 Wedding seating chart board airport arrivals, travel theme destination flight, alphabetical sign plan printable decorations DIGITAL
By Hands in the Attic
Product Info
I'm on vacation from March 5 - 26, 2023. All orders made during this period will be sent via email on March 27, 2023. You can email me at hello [at] handsintheattic.com with any questions. Thank you!
This seating chart is inspired by flight arrival boards found at airports. It's great for a travel or destination theme wedding, especially for couples who love to travel, or receptions where guests come from all over the country/world.
In this design, guests are listed alphabetically, and their assigned tables are next to their names. There may be 3, 4 or 5 columns depending on the size of your guest list. Font size will also be adjusted so that all your names fit nicely.
Table names are suggestions only and you provide me with names of any cities, countries, landmarks, gate number, etc.
DIGITAL FILE
★ This is a digital file customized with your information. No physical poster will be shipped - you will receive a PDF version of your seating chart that you can print on your own.
DETAILS
◆ 24 x 36 inches - specify if you want a different size
◆ Choose any of the preset colors - specify if you want a different color from those shown
◆ Email your data in Excel format after purchase.
→ Email: hello [at] handsintheattic.com
◆ Your data should be final and sorted - guest names in column #1, table names in column #2.
OTEHR LANGUAGES
◆ French, German, Spanish weddings are welcome!
TURNAROUND TIME
◆ Standard: 3 business days
◆ Rush: 12-24 hours - USD 6.90
◆ Rush: Under 12 hours - USD 12.90
FOR LARGE WEDDINGS
◆ Please order 2 charts if your wedding has a large number of guests.
◆ < 130 guests - 1 chart is fine
◆ 130 - 175 guests - 1 chart is fine, but 2 would be better for easier reading
◆ > 175 guests - 2 charts would be ideal
Frequently Asked Questions for this item
Q: Can this be arranged by last name?
A: Yes! Provide the list of names the way you would like it sorted.
Q: Can you replace "ARRIVALS" with "DEPARTURES"
A: Yes!
Q: Can you send me the source file so I can edit on my own?
A: No, this is completed by me
Q: I have last minute changes to my guest list.
A: Send me a revised guest list and I will have the seating chart updated for you very quickly. You can send up to 2 revised guest lists.
Enter any special requests in the Personalization box. Alternatively, you can also send me an Etsy message before or after ordering.
MORE WEDDING SEATING CHARTS
→ www.etsy.com/shop/HandsInTheAttic?section_id=19657554
ETSY SHOP
→ https://handsintheattic.etsy.com
WEB + FREEBIES
→ https://handsintheattic.com
PINTEREST
→ https://www.pinterest.com/handsintheattic
For personal use only. Files and designs may not be shared, distributed, or resold for profit. You may not claim these designs as your own.
Copyright © Hands in the Attic