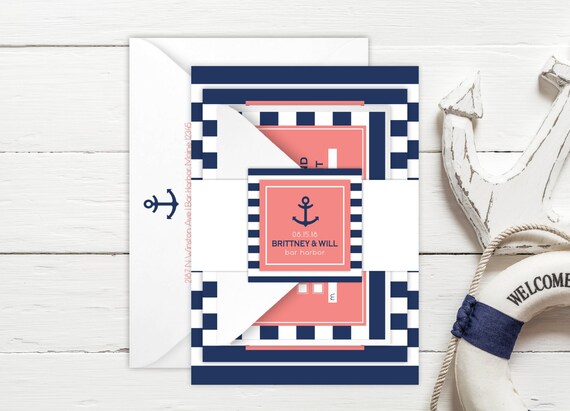 Wedding Invitations - DEPOSIT TO START Anchors & Stripes Suite - Custom Nautical Wedding Invite - Personalized Wedding Invitations - wdi-211
By LabelsRus
Product Info
----- |: A NOTE FROM THE ARTIST :| -----
These beautiful nautical wedding invitations feature a classic design with stripes and anchor details. Shown in Navy and Coral.
ID #wdi-211
BUY THE SAMPLE: https://www.etsy.com/listing/494011171/sample-wedding-invitation-suite-anchors
VIEW THIS DESIGN COLLECTION HERE:
https://www.etsy.com/shop/LabelsRus/items?ref=seller-platform-mcnav&search_query=211
_________________________________________________________________________________________
DEPOSIT LISTING - This is only part of your total amount. Please READ description for details on ordering and full pricing.
_________________________________________________________________________________________
-----|: PAPER AND PRINTING :|-----
LabelsRus boasts one of the most diverse collections of invitation papers on Etsy. Choose from over a dozen paper options to make your wedding invitations stand out from the crowd!
---THE PAPER OPTIONS---
STANDARD (NO COST): Matte White: This is a plain, smooth white cardstock with a weight of 130#. This is our standard stock and comes with no extra cost.
UPGRADES: ($0.75 per invite suite)
Classy Linen: This 130# stock has a subtle linen texture that is great for elegant wedding styles.
COLORS: White | Ivory
Starry White: This is a beautiful, thick 137# white cardstock with a slight glittery finish.
StarShines: This stock comes with the same shimmering finish as the Starry White stock, with a slightly thinner weight of 107#. We stock it specifically for its diversity in colors.
COLORS: Ivory | Pink Quartz | Lavender | Silver | Copper | Gold
Kraft Natural: This is a thick, 130# cardstock with the naturalistic texture and color of a brown paper bag. Great for rustic or vintage weddings.
SoftCotton: This is a beautiful 118# white cotton-textured stock that is especially great for designs with lots of white space.
---THE PRINTING---
Your invitations will be printed with beautiful rich colored ink that won't bleed or smudge, run on our commercial printing press and cut with a precise industrial cutting machine.
_________________________________________________________________________________________
-----|: HOW TO ORDER :|-----
1. When you are prepared to place your full order, you will need to purchase this $50 Deposit listing to get started.
After you approve your final proofs you will be sent a link to purchase the rest of the balance of your order.
Keep in mind that deposit is a *non-refundable* fee should you decide not to place a full order. This covers our design time.
2. After purchasing: SEND US YOUR INFO USING THE FORM BELOW (you can copy and paste it into your browser):
------------------------------------------------------------------------------------
https://form.jotform.com/LabelsRus/wedding-invitation-form
------------------------------------------------------------------------------------
*Remember: we can't start designing your invitation until your information is submitted! Please make sure to submit your information as soon as possible after purchasing your deposit.
3. After your information has been received by us, we will begin the design process. Your order includes three rounds of revisions including your initial proof – any additional revisions after the third require a $15 fee to cover the additional design time. Please see our policies for more information.
4. Once your proof has been approved, you will be sent your final order total to purchase on a custom link.
_________________________________________________________________________________________
-----|: INVITATION PRICING :|-----
--STANDARD SUITE--
This includes: 5" x 7" Invitation card AND A7 envelope, 4.5" x 6" Large Enclosure card, 5.5" x 3.5" RSVP card AND envelope, and the center wrapper or 'belly band.'
10 SUITES: $100 | 15 SUITES: $120 | 20 SUITES: $140 | 25 SUITES: $150 | 30 SUITES: $165 | 35 SUITES: $189 | 40 SUITES: $212 | 50 SUITES: $255 | 60 SUITES: $306 | 75 SUITES: $382.50 | 100 SUITES: $415 | 125 SUITES: $518.50 | 150 SUITES: $622.50 | 175 SUITES: $682.50 | 200 SUITES: $685 | 225 SUITES: $787.75 | 250 SUITES: $872.50 | 275 SUITES: $959.75 | 300 SUITES: $1047 | 325 SUITES: $1134.25 | 350 SUITES: $1221.50 | 375 SUITES: $1308.75 | 400 SUITES: $1396
ADDITIONAL ITEMS:
Need some extra cards? The pricing for additional enclosure cards are as follows:
4.5" x 6" Large Enclosure Cards: $1.50 each
5.5" x 3.5" Small Enclosure Cards: $1.00 each
PAPER UPGRADES:
Standard stock (no charge) is our 130# Matte White cardstock and Matte White envelopes.
Any paper upgrades are $0.75 per suite.
Any specialty-colored envelope upgrades: $0.50 each
DOUBLE-SIDED PRINTING:
Double-sided print charge is an additional 50% of single-sided pricing.
ENVELOPE PRINTING:
Return Addressing: $0.50 PER envelope
Guest Addressing: $1.50 PER envelope
Address Labels: (These are 8" x 1.25" wraparound labels): $0.25 per label
_________________________________________________________________________________________
-----|: INVITATION SUITE DETAILS :|-----
WHAT YOU'LL GET:
-The invitation: a 5" x 7" card with your basic wedding information
-A 4.5" x 6" large insert card – you may use this for wedding details, reception info, directions, accommodations, etc.
-A 3.5" x 5" response card WITH small white card envelopes
-A matching invitation wrapper (also called a belly band) to bundle your suite
-A7 Euro-flap envelopes in standard white, unless you upgrade to a Shine envelope.
**ASSEMBLY REQUIRED. We do not assemble your suites in-house. The pieces will be shipped to you (pre-printed and pre-cut) for assembly and shipment to your guests.
**Want to make your invitation suite stay nicely in place when you stuff them in your envelopes? A tape runner (about $3.50 from Walmart or craft stores) will allow you to place a small bit of sticky on the backs of your cards without ruining the paper.
_________________________________________________________________________________________
-----|: MATCHING ITEMS :|-----
We have DOZENS of items that can be customized in this matching design!
-Water bottle labels
-Favor boxes
-Gift bags and labels
-Lip balm favors
-Table numbers
-Beverage coasters
-Itineraries and menus
-Programs
AND MORE!
_________________________________________________________________________________________
-----|: PROOFING AND POLICIES :|-----
Your initial order cost includes THREE free rounds of revisions on your invitation design. After your initial three proofs, an extra fee of $5 PER revision will be required to continue. This is to compensate the extra design time required to revise your design.
PLEASE NOTE: it is not up to us to make sure that your spelling and grammar are correct. We expect that you have thoroughly read over your text before submitting it to us, and that you re-check when we send your proofs.
-If you approve your proof and happen to catch an error after receiving your product, we will be happy to re-print your invitations at a discounted price.
ADDITIONAL FEES:
-Color matching services: If you would like a color that is not found on our color chart, such as a Pantone or swatch color, we ask a $15 color-match fee. You may send us your Pantone or color swatch via email or standard mail, and we will make sure our printers and files are calibrated to properly match your color.
-Extensive design changes: If you request that your design be changed beyond the normal limits (font or color changes,) we ask a $15 design fee for revising our templates. Please note that this doesn't include moving graphics or changing minor text.
-Custom designs: Custom work is available for invitations. Prices for custom art vary; please message us for details.
POLICIES TO REMEMBER:
CANCELLATIONS:
-If you request an order cancellation BEFORE your proofs are sent, your deposit will be refunded.
-If you request an order cancellation AFTER your proofs are send, your deposit WILL NOT be refunded.
-Cancellations WILL NOT be accepted once your proofs are approved as we move quickly into production.
-NO READ, NO REFUND: Our No-Read, No-Refund policy states that refunds are not applicable for fulfilled orders complaining of details that are clearly stated in our descriptions, such as color, measurements, or materials. It is up to you, as the customer, to know the details of what you are purchasing.
-RETURNS: Because of the extensive work that goes into wedding invitations, returns or exchanges are not accepted.
-REFUNDS: Refunds and discounted re-prints are available for LOST, DAMAGED, or INCORRECT orders only. Please note that INCORRECT does not apply to spelling or grammar errors, as stated above. This would apply to a mistake that was clearly made during production, such as mis-cut stationery or printing errors like toner leaks.
-COLOR ERRORS: Please remember that all screens have different resolutions. What we see on our screens may be different from what you see on yours; this is why we recommend printing the color chart shown on our listings or referring to the color chart in your sample package.