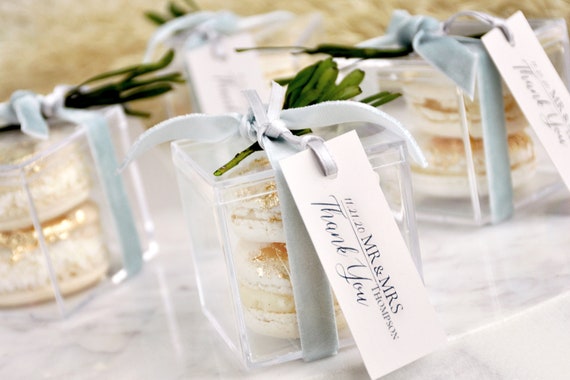 Wedding Favors for Guests (1 set of 10). Personalized Wedding Favor Boxes with Tags. Favor Boxes. S2AB
By Confetti Momma
Product Info
Using Confetti Momma's "Personalized Wedding Favor Boxes with Tags" can be such a personal way to thank your wedding guests for their love and support on your special day. Each Wedding Favors for Guest has a personalized tag with the happy couple's name, and wedding date. These Wedding Favor Boxes are the perfect personalized way to thank all of your wedding guests.
This DIY acrylic favor box was made using an acrylic box accented with a luxurious dusty sage velvet ribbon and a personalized gift tag made from stone cardstock.
These gorgeous wedding favor boxes with tags adds a perfect personalized touch to your wedding favor giving - some assembly required.
INCLUDED IN THE PRICE:
• Easy Open, Fill, and Assemble Acrylic Box (Macarons Not Included)
• Luxurious Velvet Ribbon From a Large Selection of Color Options
• Elegant & Personalized Thank You Tag
• Natural Dried Greenery
HOW TO ASSEMBLE:
Box Size: 2" wide, 2" tall, 2" deep. Tag Size: 1"H x 2.5"W
Quantity: Set of 10