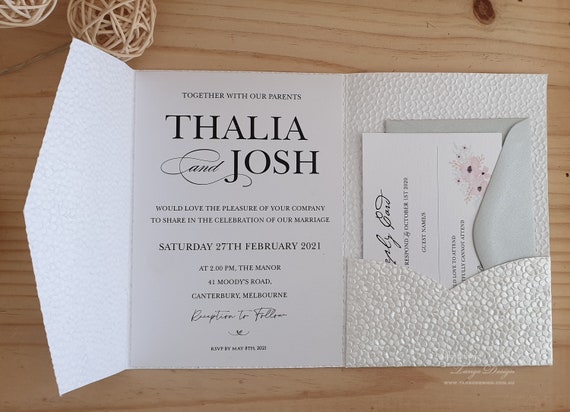 Wedding card design invitation. Floral Pocketfold Card Invitations. Modern stationery pack Invites design. 5x7 pocket fold invite, Handmade
By Invitations by Tango Design
Product Info
Floral Wedding Invitation: Handmade paper cut into a Pocketfold Card:
Floral + greenery wedding invitation set handmade into a pocket fold design. Pocketfold holds 5x7 wedding invites + envelopes. Classy, cocktail or party invitations, presented as a stationery set, invites + plus rsvp card, postcard or with return envelope option.
MINIMUM of 50 UNITS. Please check timing as this is a custom-cut product.
❤ ORDERING IS EASY:
1) Simply SELECT the options you want and the quantity you need.
❤ MENU options EXPLAINED
✔ OPTION 1 "The Pocketfold with 1 RSVP postcard":
FULLY MADE: you can choose to put ANY info you want on that side card, single side printed, no RSVP envelope but the rsvp envelope can be purchased separately if needed.
✔ OPTION 2 "The Pocketfold with 1 RSVP card + RSVP ENVELOPE".
FULLY MADE: As Option 2, but including an RSVP envelope with printed return address on the font and seating behind the rsvp card
Both options include a belly band closure printed with your names and custom design.
✔ OPTION 3
-CLOSURE: 42mm ribbon plus dual-band work (very high labour)
❤ MENU 2 options EXPLAINED
-Belly band closure only (most economical)
-42mm ribbon plus dual-band work + extra
❤ OPTIONAL OR ADD ON (not included)
-Guest names: once-off +A$59.00, less than US$50
(names on cards and names on addresses on envelopes, we will email you a template if this service is needed)
-More info Cards needed: A$2 each (less than US$1.50each)
❤ ALSO INCLUDES

✔ Digital Proofs Included with Every Order
✔ Belly band design and colour, envelopes and insert cards colours can also be changed.
✔ Wording can be changed
✔ Font and/or printed design colours can be changed (digital printing)
❤ PROCESS

We keep it easy and guide you/ talk to you all the way via email after the order is placed. After you purchase and pay for your invitations, we will email you wording examples, fonts options, and guest list, if this service was purchased. You are welcome to have your own custom wording as long as it fits on the main card.
❤ TIMING!

Production time for this particular design: 3-4 weeks from all e-proofs approved, to complete/ produce the invitations. International orders take on average up to 5 days to arrive after the shipping date (depending on destination). You will receive a tracking notification (for most countries) once your item has been shipped. If you need them QUICKER please ask us what designs we have already in stock

Thank you for shopping with us! ❤ ♥ ❤
Designs & Copy - Copyright © Invitations By Tango Design- 2022