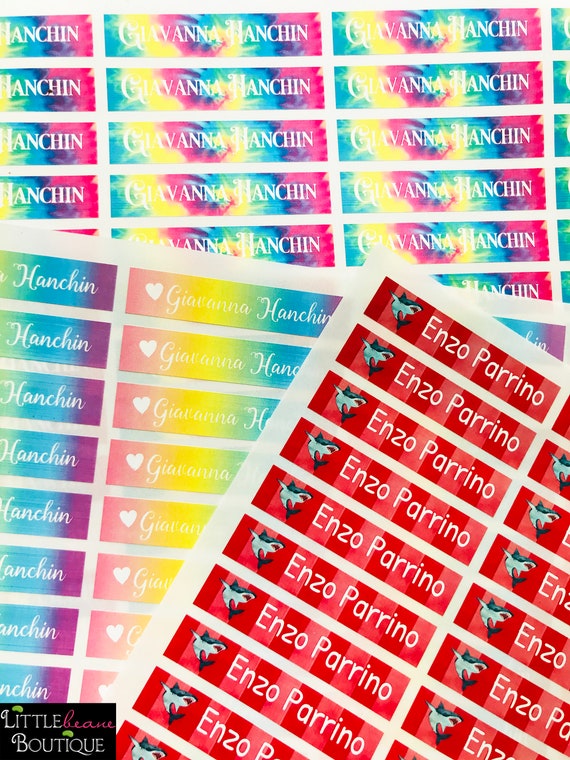 Waterproof Back to School labels, Back to school stickers, Pencil labels , Kids School Supplies labels, Teacher labels, school labels
By Littlebeane Boutique
Product Info
Water Resistant School Labels .. * PLEASE NOTE THEY ARE NOT TO BE USED IN HIGH TEMPERATURES.. LIKE DISHWASHERS OR ANY SANITIZING MACHINE... IT WILL COMPROMISE THE DURABILITY OF THE LABEL... THEY CAN HAVE A LIGHT RINSE/ WASH BY HAND!

WATER RESISTANT LABELS:
a durable polyester material made to withstand
outdoor conditions and a wide variety of
environments! they do not tear easily...
these can withstand water.... but
they cannot be used in a dishwasher
or any other sanitizing machine with high heat!
you will compromise the durability of the label!
please hand wash lightly!
detergents/soaps containing bleach could also
fade or change the colors,
so they are not recommended.
please remember... these labels will last alot
longer than your average label.. but they are
not industructable... thank you!
Great to label all of the kids school supplies and Books.. Labels are water resistant .. they come in a set of 48 labels that are 1/2" High x 2 " long
I can do MANY different designs / patterns on them.. if you have a request.. please contact me and I will get back to you! thanks
Littlebeane Boutique 2020