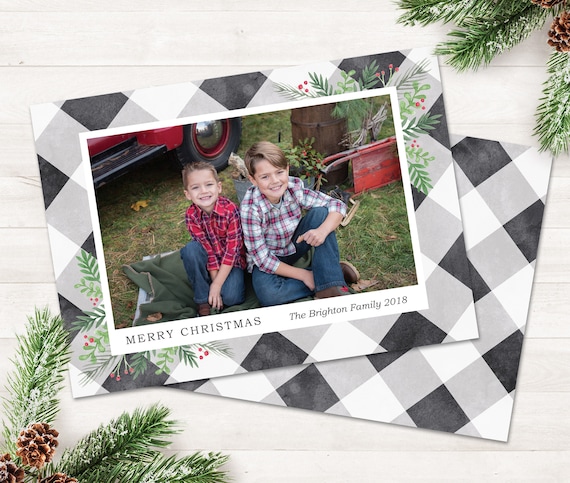 Photo Holiday Cards Watercolor Buffalo Check Christmas Cards with Photo Christmas Card Printable Buffalo Plaid Christmas Farmhouse Christmas
By Lemonade Design Studio
Product Info
This PERSONALIZED PRINTABLE holiday card is customized for you and sent via email. No printed materials or envelopes will be shipped to you. I take care of all the design work - adding your photo for you, customizing it with your family's name(s) and the year if you would like. It's available with "Happiest Holidays", "Merry Christmas", or any other short greeting. Then you print as many copies as you want, wherever and however you want!
It includes the backside buffalo check file as shown. If you want photos and/or additional text added to your backside file, you can purchase that option: www.etsy.com/listing/256365772
[ How this Works ]
1. Add this printable Christmas card listing to your cart for purchase
2. In the 'Notes' section please tell me:
The greeting you prefer and your family name(s) exactly as you want it worded on the card
3. Email your hi-res photo to me ([email protected])
4. Within 2-4 days a hi-res jpeg proof file will be emailed to you and available to download on Etsy. If you don't have changes you may print from that jpeg file or request a pdf for printing. If you do have changes I will work until you LOVE your card!
PLEASE NOTICE: The buffalo check art in this design has a watercolor 'textured' effect and will print with the color variations as shown. It is not a bold "true black" and white, but has variations of grays and charcoal in a softer, rustic style to add character to your card.
****************************
[ Printable File Info ]
Your proof is sent as a JPEG, which you can use for printing at a photo finisher such as Walgreens, Costco, Walmart, Shutterfly, Target, etc.
If you want to print at home or at a print/copy shop just ask for a PDF and I'll format it to print two cards on a letter size page with trim marks to cut.
If you plan to print at Vistaprint please choose the 'Vistaprint 5x7' size option - their size specs are much different.
If you think you may need a different format for your printable Christmas card, just ask! The above are just the most popular.
[ Your Hi-Res Photo ]
*You will need a hi-res photo for this Christmas printable card to print properly. (Most modern digital cameras will work just fine!) For a 5x7 invite your photo should be a minimum of 2100pixels x 1500 pixels. For a 4x6, a minimum of 1800px by 1200px is needed. I can adjust the placement of the text slightly and darken the area along the bottom of your photo so the text shows up better, but please keep in mind that there shouldn't be any faces or important elements of the photo along the bottom portion where the text will be placed. If you have questions please don't hesitate to ask!
[ Photography Credit ]
The sample photos shown are by Cupkate Photography. Visit https://www.facebook.com/CupkatePhotography to see more.
[ Questions ]
If you have ANY questions at all, please message me or email me ([email protected]) I'm always happy to help!
Black and white Buffalo Check Christmas Buffalo Plaid Christmas Printable Christmas cards
photo Christmas card, printable holiday card. vertical Christmas card, farmhouse Christmas.
****************************
All designs, proofs and files purchased, and sample designs shown are copyright of Lemonade Design Studio. All designs are original artwork by Lemonade Design Studio and may not be copied in any way. Purchased files are for personal use only and may not be resold or shared.
©Lemonade Design Studio 2018