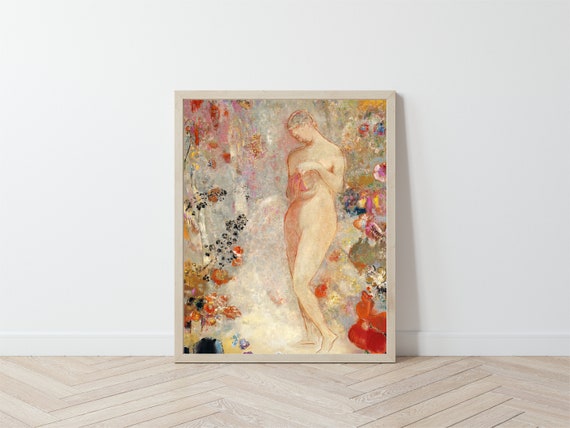 Vintage Nude Painting with Florals / Figurative Antique Art Print / Feminine Wall Decor / Modern Boho Bohemian Wall Art
By Paper Mango
Product Info
☽ you'll get
This reproduction print is of the highest possible quality and printed on lustre Kodak Endura professional-grade paper, the best paper in the industry. Once the print is complete, we run it through a unique finishing process to emboss the texture directly onto the photo paper, giving it a subtle canvas look.
☽ about the art
Pandora by Odilon Redon
Print of oil on canvas
1914
Between 1908 and 1914, Redon repeatedly depicted beautiful women from classical mythology, including Pandora, who was fashioned by the god Vulcan and sent to earth by Jupiter. Here, she appears nude, in a state of perfect innocence, and surrounded by flowers, like Eve in the Garden of Eden. According to legend, when Pandora opened the box cradled in her arms, she unleashed all the evils destined to plague humanity, bringing to an end the idyllic Golden Age. Such imagery may have had particular resonance for Redon and his compatriots as World War I approached.
☽ you frame it
No frame included. Shop frames here: https://tinyurl.com/vz762ht or your local thrift shop.
Thank you for shopping Ruby Dahlia!