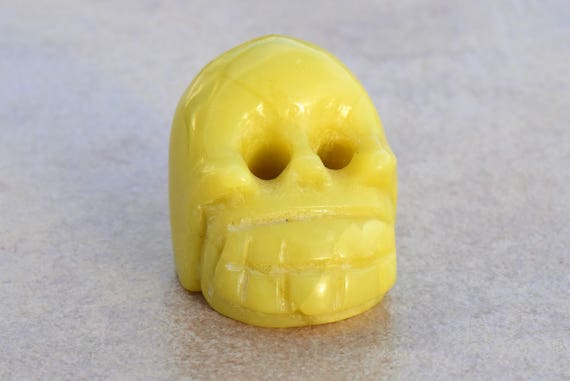 Product Info
Please use Guru Designs discount code MYSTIC10 during checkout for 10% off your purchase of one or more items.
Vintage Jade Skull Head Figurine Statue
Vintage Jade Skull Head of beautifully translucent yellowish jade - perforated through the back for hanging but also sits about to scare away evil or to just be your friend!
In excellent condition - no chips or cracks - stable on hard surfaces.
Vintage Jade Skull Head Figurine Statue is 43 mm x 35 mm x 33 mm
(1.7" x 1.38" x 1.3") Longest measurement is front to back - slightly taller than wide
Weight = 56 grams (2.0 oz)
One inch = 25.4 mm
Also check out NeoWare - our Ancient Gemstone Shop at: