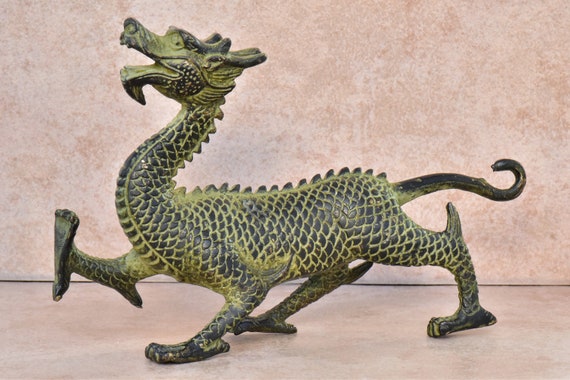 Product Info
Vintage Bronze Turtle Dragon Gold Gilded Beast Figurine Statue
----------------------------------------------------------------------------------------
Vintage Bronze Dragon Beast Figurine Statue
Vintage Bronze Dragon in walking pose - fine and excellent detail throughout the piece - light minor erosion here & there - beautiful patina - authentic Asian Bronze Dragon in excellent condition!
This is an impressive piece and sure to please the serious collector - great heft and feel!
In excellent vintage condition - no cracks or chips - stable on all flat hard surfaces, however, this dragon does stand on just three legs, so, on wobbly or uneven surfaces he tends to tip toward the side on which the leg is raised.
Thanks for your interest in this item!
Vintage Bronze Dragon Beast Figurine Statue- 13cm (5.12" long) x 7.5cm ( 3" wide) x 8.0cm (3.15" tall)
1 inch = 25.4mm (2.54cm)
This item ships by itself, with no other item, with insurance and tracking to US destinations only.
If you make additional purchases with this item, they will be shipped separately - please message if you have questions or to arrange details.
No international sale, no reserve, or layaway on this item.
Also check out NeoWare - our Ancient Gemstone Shop at: