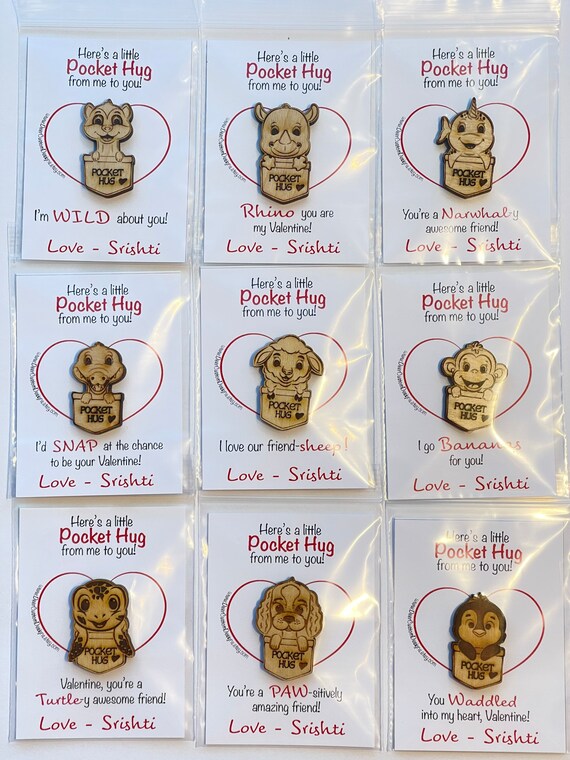 Valentine's Day Pocket Hug Gift | Personalized Kid Classroom Set Valentine Favor | Assembled Non candy Boy Girl School Pocket Pal Token Card
By Deer Custom Designs
Product Info
These adorable Valentine's Day edition Pocket Hugs are the perfect non candy gift for an individual boy or girl or an entire classroom! The pocket pal token comes assembled on card stock, individually bagged, and can be personalized. Making them ready to gift! Each pocket buddy has a Valentine saying that coordinates to that specific animal, and with over 60 animals to choose from, we have something everyone will enjoy!
***PLEASE NOTE: Orders placed after Tuesday, February 7th by 4pm Eastern May NOT arrive in time for Valentine's Day. There is an option to upgrade shipping at checkout; however, we cannot gaurantee delivery in time for Valentine's Day even with upgraded shipping purchased. Deer Custom Designs, LLC can only control our processing times to create and deliver the package to the post office. We cannot control shipping speeds/delivery once the package is handed over to the post office.
60+ animals and 54+ sayings. Choose one of our sayings, or come up with one of your own! (Additional fee will apply to use your own saying.)
These pocket hugs are laser engraved on 1/4" Baltic birch and are approximately 1.3" - 2" tall and .8" - 1.3" wide (see photos for size comparisons), and attached to a coordinating Valentine card (personalization optional) with a small glue dot. The pocket hug can be removed from the card and used as a regular pocket pal token.
What you get:
Each ready to gift individually packaged Pocket Hug Valentine contains:
♥ 1 Pocket Hug animal - (size varies based on animal) (see photos) attached with a glue dot to a
♥ Valentine card with coordinating animal saying (personalization optional) - white cardstock measuring 2.75" x 3.75"
♥ Small zippered baggie
Please note: ALL CARDS WILL HAVE SAME PERSONALIZATION - if multiple names are needed, multiple orders must be placed.
Please enter personalization EXACTLY as you want it to appear on the card.
Personalized names may appear larger or smaller than the listing photos depending on length.
We will try to limit duplicates with the same personalization.
Bundle and save with classroom orders!
Please Note: We will try our best to accommodate specific animal/theme requests; however, due to availability, orders of over 10 pocket hugs will be randomly selected based on the requests left in the personalization section. If you would like all animals to be the same, please specify at checkout. For classroom animal orders, we will do our best to ensure no two animals are the same (unless requested). For multiple orders, (placed at the same time and shipped to the same address) we will try to limit duplicates with the same personalization.
Theme requests will be accommodated as availability allows. For instance, you can request only dinosaurs, woodland animals, jungle animals, etc.
Available Themes and sample animals you could receive within each theme:
♥ Woodland: Deer, Mouse, Racoon, Beaver, Squirrel, Chipmunk, Owl, Fox, Rabbit, Hedgehog, Otter, Snake, Bear
♥ Safari/Exotic: Zebra, Hippo, Meerkat, Warthog, Monkey, Giraffe, Elephant, Alligator/Croc, Rhino, Snake, Lion, Tiger, Cheetah, Kangaroo, Panda, Koala, Sloth
♥ Dinosaur: T-rex, Pterodactyl, Dilophosaurus, Triceratops, Brachiasaurus
♥ Water: Otter, Sea Turtle, Shark, Dolphin, Narwhal, Platypus, Seal, Walrus Penguin, Duck, Snake
♥ Mythical*: Dragon with ears, Dragon with gills, Unicorn, Narwhal
♥ Farm: Llama, Chicken, Lamb, Goat, Horse, Donkey, Cow, Cat, Dog, Pig, Duck, Mouse, Fox, Rabbit
*If Mythical theme is chosen, we will choose random pocket hugs to finish out the order unless you specify you want multiples. Even if you specify multiples, you may receive some pocket hugs from other themes due to availability.
Or you can let us know specific animals you would like, and we will do our best to accommodate. We cannot guarantee you will receive the exact animals you request. If you need specific animals, please contact us for a custom listing.
DISCLAIMER:
NOT A TOY! These pocket hugs are NOT intended for small children under the age of 3 years old or any person who still mouths objects. Please monitor your child at all times when using these pocket hugs. Please use your discretion when gifting this item to another person or child. By purchasing this item, you agree that Deer Custom Designs, LLC is not liable for any damages that may occur from the purchase or gifting of this item.