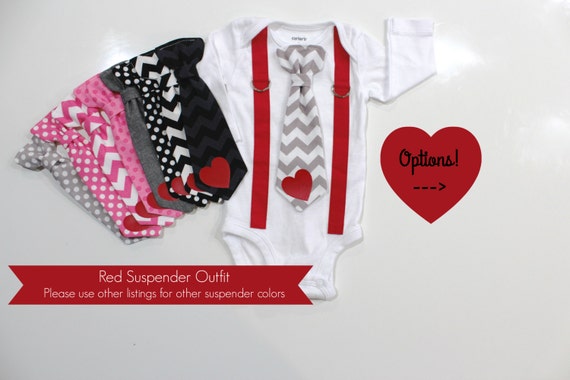 Valentine Outfit for Baby Boy. Newborn boy valentine day. My First Valentine's Day. Valentine bowtie. Tie and suspenders.
By Cuddle Sleep Dream
Product Info
Looking for a valentine outfit for your newborn baby, toddler, or even kiddo? This outfit is just perfect for any age cute little guy.
This Valentine's Day baby boy outfit includes a bodysuit or tshirt, short or long sleeve, with RED suspenders and a snap on heart tie.
The pictured combination is the most popular one, but there are tons of other ties to choose from. Check out pics 3 and 4 to see the tie choices.
*** Sizing ***
Bodysuits are carters.
Tshirts are true to size.
*** How to Order ***
1. The "Size" drop down menu gives you the options for tshirt/bodysuit, sleeve length, and size.
If it says "TSHIRT" it's a tshirt, otherwise it's a bodysuit.
2. The second drop down menu is the tie codes. Please see pics 2 & 3 for all the choices.
*** How long will it take? ***
We're doing our best to keep all sizes and ties in stock throughout January. If it's in stock it will ship within 3 days, if it's out of stock it may take a week.
If you have a need by date other than Vday please always let me know :)
*** Can I get a different suspender color? ***
Yup! Listings are organized by suspender color, so please checkout with one that features the color you like.
Dark Gray Suspenders: www.etsy.com/listing/174532971/
Pink Suspenders:
Black Suspenders:
Brown Suspenders:
Want something else? PM me for help.
*** Where are those bottoms? ***
Pants: www.etsy.com/listing/260209146/
Leg Warmers: www.etsy.com/listing/233041231/
*** Can I get extra ties? ***
Of course! They are all in this section:
www.etsy.com/shop/CuddleSleepDream?section_id=15239006
***Who took that great photo?? ***
Check out Allicia's page at Crush Photography: https://www.facebook.com/crushphotographypa