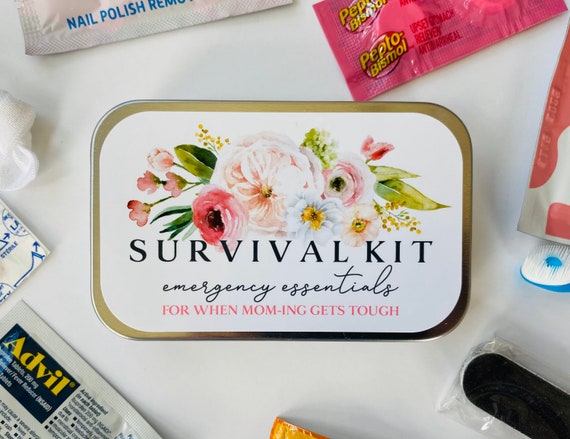 Unique Mom Survival Kit Gift for Mother's Day, Mom Emergency Stash Gift Box Tin, Mother's Day Quarantine Gift, Mother of the Bride Favor
By Sweet Talk Designs
Product Info
Mom-ing is tough, let's face it. Make sure your marvelous mom is prepared for anything her kids throw her way with a special pocket-sized survival kit that fits in any small purse or diaper bag. Alternatively, add these kits to your Mother's Day gift box for a unique gift idea.
Our larger rectangular hinged tins are slightly wider and deeper than our standard size Altoid tin, which means they fit even more emergency essentials and pretty little things.
Each tin comes with personalized glossy sticker adhered to the top of tin, so all you need to do is fill with your goodies!
MEASUREMENTS
- Large tins measure 4 1/4 x 3 1/8 x 1 inches
- Small tins (standard altoid tin size) measure 3 11/16 x 2 5/16 inches
SMALL FILLED TIN INCLUDES:
- bandaid, sewing kit, Pepto-Bismol, mini Tic Tacs, Shout wipe, make-up remover wipe, white hair tie, Advil, mini nail file, and Wisp toothbrush
Thank you!