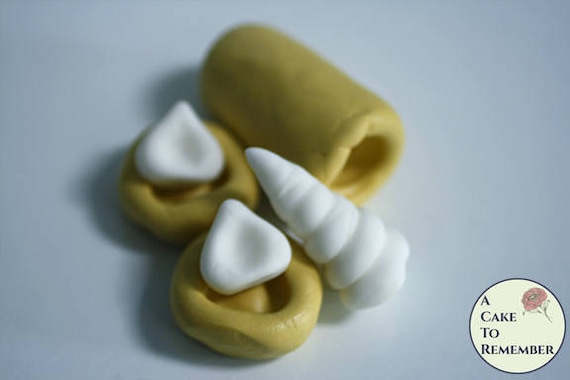 1.5" Unicorn horn and ears silicone mold to make cupcake toppers. Small unicorn horn mold for fondant, gumpaste, polymer clay, resin M5199
By A Cake To Remember LLC
Product Info
For faster shipping, upgrade to priority at checkout.
Small silicone mold to make a 1.5" 3D unicorn horn and 1/2" wide ears. Sized for a cupcake topper or small jewelry pendant if used with resin or polymer clays.
This is a round mold, not flat, so your unicorn cupcakes will have a round horn that can be viewed from all sides, not just from the front.
The one-part mold works best with a press-in material or resins that set up completely hard like resin or isomalt. Because of the ridges on the rolls it can be difficult to remove if the materials are soft, so use a stiffer gumpaste or fondant for best results. Place the mold in the freezer after filling it if you need to harden the material in it.
The two-part mold is better for chocolate, wax, soap or other materials that set up and are softer.
NEVER INSERT ANYTHING INTO THE MOLD TO TRY TO REMOVE THE HORN, THIS CAN CUT PIECES OFF THE INSIDE OF THE MOLD! the two-piece mold is easier to remove the horn from, but it can leave a light seam. If you're not sure, get the two-piece one, it's just easier to take the horn out!
Here's a video showing how to use the one-piece mold: https://www.youtube.com/watch?v=uzrAPBnE9_s&t=96s
Makes a cute cupcake topper on its own, or pair it with a small flower mold to add some little flowers around it: https://www.etsy.com/listing/498197105/
Food safe silicone that can also be used with polymer clay, pmc, utee, resin, isomalt, and other craft media. Oven safe up to about 375 degrees.
Multicolroed cupcakes in the listings photos were made by @ACupcakeSocial, follow her on social media!