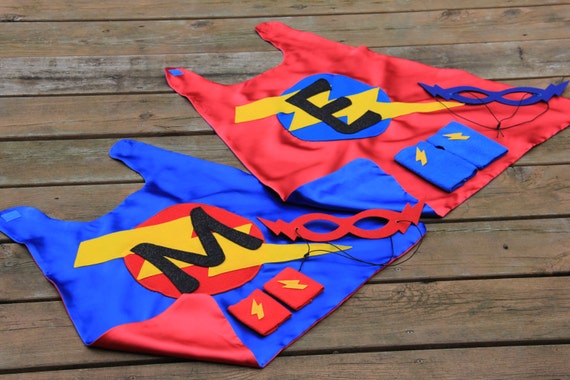 TWO Personalized SUPERHERO CAPES Set - Super Sibling Capes - Big Brother Little Brother Gift Set - 2 Capes + 2 masks + 2 sets power gloves
By Superkid Capes
Product Info
Are you looking for something SUPER for a set of siblings? Do you have a big brother and little brother who are ready to take off on an adventure together? This set is for you! These sets are perfectly coordinated for you.
INCLUDED:
2 Capes sets-The extra small set is pictured in blue (Age 1.5 and under), the standard size set is pictured in red (Age 2-8). You can choose which set you would like to be standard size and which to be made extra small.
Cape set 1: Red outside/blue underside cape-blue circle/yellow bolt-INITIAL
+ blue fingerless gloves (or mini wrist bands) + blue mask (Choose if you want the standard size (shown) or extra small)
Cape set 2: Blue outside/red underside cape-red circle/yellow bolt-INITIAL
+ red fingerless gloves (or mini wrist bands) + red mask
**Please note the Initials you would like for CAPE 1 and CAPE 2 in the notes!**
CAPE Construction:
Each cape is made from quality washable satin, double sided with 2 colors. The felt design is made from eco-fi felt and sewn into place securely using high grade sewing equipment to withstand any adventure! Approximately 22 inches long, the safest length for young children. This cape is appropriate for ages 2-8. The neck closes with light weight velcro for safety. The velco is sewn into place to allow for durability.
*****CHECK OUT MORE SUPER HERO CAPES HERE:
https://www.etsy.com/shop/superkidcapes
*****READ BEFORE PLACING YOUR ORDER*****
SHIPPING: Ships in 3-4 Days!
DEADLINES: If you have a specific date you need the item for, or need a rush order, send me a message with your deadline and I will let you know if I can accommodate your timeline. I will NOT guarantee any rush deadlines to be met without a conversation prior to purchase.
*This order included complimentary delivery confirmation tracking and will ship PRIORITY MAIL.
**Amazing blue cape Images courtesy of the amazing Rachel Vanoven http://www.rachelvanoven.com**
**AMAZING bed cape photos by Adriana Varela Photography at https://www.facebook.com/pages/Adriana-Varela-Photography/103913949231***