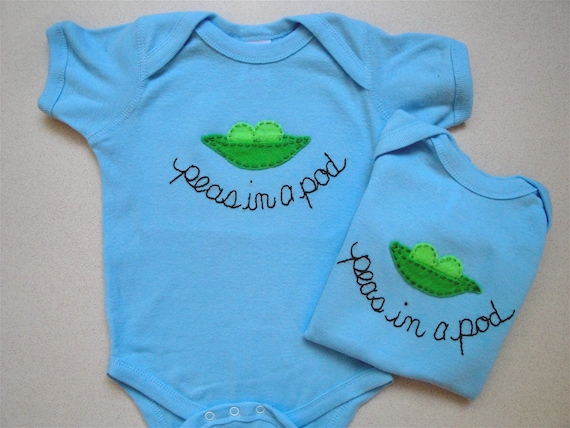 TWINS/ TRIPLETS SET peas in a pod bodysuit
By Ellie Shea
Product Info
This is the perfect 100% cotton baby bodysuit set made especially for twins and triplets. They are hand-stitched and can be personalized to your specifications. Beneath the hand cut and stitched felt applique, "peas in a pod" or "2 peas in a pod" is hand embroidered in black.
These are customizable- I can add happy smilie faces to the peas if you let me know during checkout. There is a protective layer on the inside to create a smooth finish against the child's skin.
Unless specified by you, the number of peas will reflect number of shirts (i.e. 2 peas for twins, 3 for triplets)
For white bodysuit options, please follow this link: https://www.etsy.com/listing/156097922/twins-set-peas-in-a-pod-onesies-white
Colored bodysuits (Rabbit Skins Brand) Size Chart is approximate
NB Age 0-3 month, 18-21 inches, 5-9 pounds
6M Age 3-6 month, 22-24 inches, 10-16 pounds
12M Age 6-12 month, 25-28 inches, 17-20 pounds
Sizes can be mixed to accommodate siblings, please message me for a quote and custom order. Larger sizes can be made available.
For more ideas and coupon codes, please follow me on facebook- www.facebook.com/elliesheaoriginals
Feel free to message me with any questions you may have so we can build your perfect gift, I love custom orders!