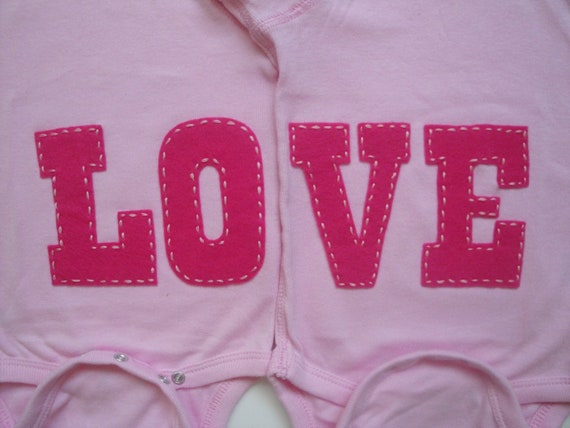 Product Info
This is a great set for twins or for moms creating a future generation of BFFs. This set is created with 100% cotton baby bodysuits, hand-stitched with felt applique and will be personalized to your specifications. There is an inner lining to create a smooth finish against the child's skin. Choose your color of "LOVE" for a unique gift or photo opportunity. Any color of applique featured in my shop is available for the letters. Color samples can be emailed upon request.
Colored bodysuits (Rabbit Skins Brand) Size Chart is approximate
NB Age 0-3 month, 18-21 inches, 5-9 pounds
6M Age 3-6 month, 22-24 inches, 10-16 pounds
12M Age 6-12 month, 25-28 inches, 17-20 pounds
**notes for the rabbit skins size chart- "newborn" will fit closer to 0-3months babies, may not be ideal for a brand new newborn photo shoot.**
White One pieces in newborn (5-8lb), 0-3m (8-12 lb), 3-6m (12-16lb), 6-9m (16-20lb), 12m (20-24lb) are gerber brand and available in long or short sleeves. (If you do not specify, I will use short sleeves)
Please let me know upon ordering the color of lettering you would like.
Feel free to message me with any questions you may have so we can build your perfect gift, and for more ideas and coupon codes, like my facebook page-