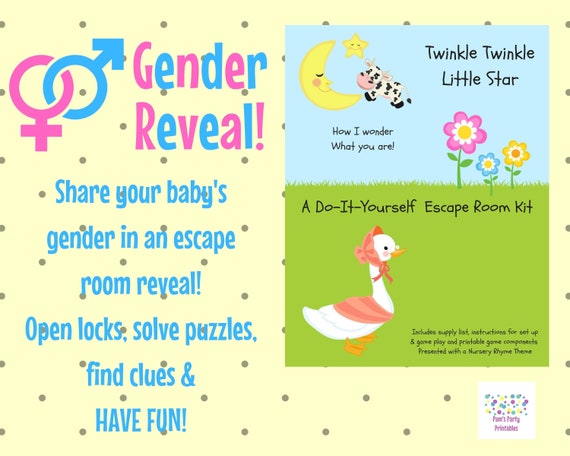 Twinkle Twinkle Nursery Rhyme DIY Escape Room Kit, Gender Reveal, Birthday, Surprise, Family Friendly, Youth Group, Baby Shower, Party Game
By Pam's Party Printables
Product Info
Twinkle Twinkle Little Star - How I wonder what you are!
A Do-It-Yourself Escape Room Kit with a Nursery Rhyme theme
Escape rooms are so much fun, but expensive for a family outing. Why not set one up at your house for a fraction of the cost?
This DIY Escape Room kit offers the real experience of an escape room by challenging players to walk around the room to find clues, gather information and open locked boxes. Players work with simple household items, not just a paper puzzle, while they try to find the missing items before time runs out.
This game works well for 6-12 people.
Clues best understood by tweens and older, although younger children can play if they have help.
This family friendly game is themed with Nursery Rhyme clues, graphics and storyline, so it is great for a Gender Reveal or Baby Shower. However, this game is not limited to those events. It can be played as birthday party game, team building or to use as a surprise reveal like "Where are we going on vacation this year?"
Players use game clues and items on supply list to open 10 locks and discover more pieces of the puzzle until they get to the last box which will reveal a baby's gender, vacation spot, birthday gift, trophy, prizes, etc.
Most items on supply list are found in the average home, borrowed from friends or can be purchased at the Dollar Store. (See other pictures in listing for actual list)
Beta testers of the game reported it took them an hour and a half to read through everything and cut sheets, plus an hour to an hour and a half to set up after gathering supplies. Link to file is automatically emailed to you through Etsy. If it doesn't appear, check your spam folder or download it directly from your orders on your Etsy account page.
What's Included:
Instant download of 32 pages in 1 PDF file and 3 editable Word documents. Includes supply list, set up instructions, game play instructions, game printouts and script for host/hostess.
Please note that this is for an INSTANT DOWNLOAD file. No game sheets will be mailed and no other items are included. Instead you will receive a PDF that you can print on your home printer using regular printer paper or cardstock. Print in color or black and white. There is no limit on how many game sheets you can print for your personal use. However, you may not redistribute the file or sell printed items for profit.
NO REFUNDS WILL BE GIVEN FOR DIGITAL DOWNLOADS.
If you love Escape Rooms, please check out my other kits:
Mix up at the Morgue Escape Room
https://tinyurl.com/y4gm4n6e
Santa's List is Missing Escape Room
https://tinyurl.com/y27jaajm
Kitchen Kapers & Cream Cheese Cupcakes Escape Room for Kids
https://tinyurl.com/y2sam7g4
Let Me Outta Here! The Snowman is Melting Escape Room
https://tinyurl.com/yymf59fm
We're Late for Thanksgiving Dinner Escape Room
https://tinyurl.com/y4xn8vmy