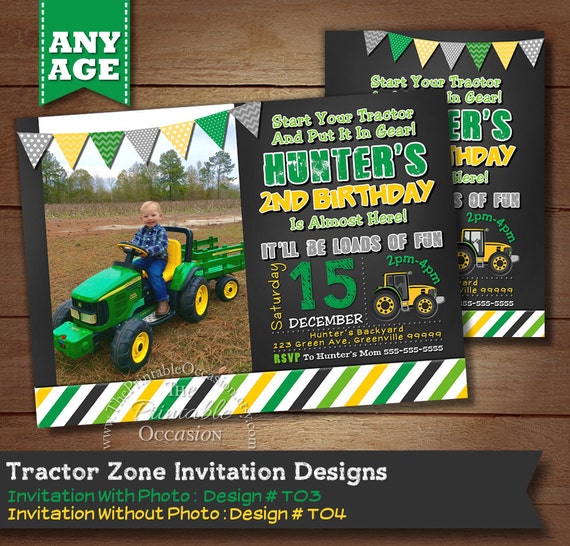 Tractor Birthday Invitation, Farm Invitation, Tractor Invitation, Printable Invitation, Tractor Party, Tractor Birthday, Boy Birthday Invite
By The Printable Occasion
Product Info
►► MATCHING TRACTOR THANK YOU CARDS: http://etsy.me/2k9xvhs
►► MATCHING TRACTOR ENVELOPE LABELS: http://etsy.me/2kshG6l
CHALKBOARD, YELLOW AND GREEN TRACTOR BIRTHDAY INVITATION
PRINTABLE DIGITAL FILE
How cute are these chalkboard, yellow and green tractor birthday invitations! Great for spring, summer, winter or fall parties, they're perfect for any farming party you have planned for your child. These tractor invitations come in green, yellow and white with chalkboard accents and can come with or without a photo. So come on down to the farm to party! Yeee haaa!!
Once I receive all of the info requested from the 'HOW TO ORDER' portion below, I'll then create your card and send the 300dpi high resolution JPG FILE back to you via Etsy messaging (for proof of delivery). From there, you can easily download the file to your computer or flash drive and print as many copies as you'd like from home or from your local or online photo lab for personal use. (No printed materials will be mailed to you.)
ONE REVISION is included with your order. Any additional revisions may be subject to change order fees. http://etsy.me/1U9mI5Y
▬▬▬▬▬▬▬▬▬▬▬▬▬▬▬▬▬▬▬▬▬▬▬▬▬▬▬▬▬▬▬▬▬▬▬
-------------------------- ►►►HOW TO ORDER◄◄◄ --------------------------
    RUSH SERVICE OPTION AVAILABLE DURING CHECKOUT
▬▬▬▬▬▬▬▬▬▬▬▬▬▬▬▬▬▬▬▬▬▬▬▬▬▬▬▬▬▬▬▬▬▬▬
► 1.) Please add your details to the "notes to seller box" at checkout.
EXAMPLE - PLEASE CHECK YOUR SPELLING AND PUNCTUATION as I will 'paste' the wording you provide onto the card to ensure its accuracy.
Let me know if you'd like a different color tractor
DESIGN # - found under or above each card
Hunter Is Turning One
Saturday, December 15th
2pm-4pm
Hunter's Backyard
123 Green Ave, Greenville 99999
RSVP To Hunter's Mom 555-555-5555
► 2.) IF YOUR INVITATION COMES WITH A PHOTO - Please attach your UN-EDITED/UN-CROPPED Hi-RESOLUTION photo in the Etsy email system by clicking 'Attach Image' when sending a message (preferred) or email photo to PrintableOccasionOrders(at)gmail.com. Try and have your child centered and no close-ups please. (More photo requirements below in FAQs)
► 3.) ORDER TIME FRAME: You will receive your order via Etsy messaging typically within 24 hours (UNLESS the store is experiencing a high volume of orders or it's the weekend/holiday) AFTER all customization has been received. But, in many cases, I can get to orders within a few hours after order placement. Keep in mind that some days out of the week are much busier than others, and this may ALSO create a delay.
By purchasing you are agreeing to my shop POLICIES http://etsy.me/216ktRZ
▬▬▬▬▬▬▬▬▬▬▬▬▬▬▬▬▬▬▬▬▬▬▬▬▬▬▬▬▬▬▬▬▬▬▬
------------------------ ►►► ADD ON SERVICES ◄◄◄ ------------------------
▬▬▬▬▬▬▬▬▬▬▬▬▬▬▬▬▬▬▬▬▬▬▬▬▬▬▬▬▬▬▬▬▬▬▬
► 12 BUSINESS HOUR RUSH ORDER SERVICE http://etsy.me/1NoIHoa
► SAME DAY RUSH SERVICE http://etsy.me/1U9mBr5
► PDF FILE CONVERSION http://etsy.me/1Sits0d
This fee applies if you need a PDF file of your card OR if you need multiple cards on one sheet to save money on printing.
► ADD A 2nd INVITATION WITH THE SAME DESIGN - DISCOUNTED
If you are having a second party for family or friends with new party information, please purchase this listing. http://etsy.me/1Wiimtt
► ADDITIONAL REVISIONS http://etsy.me/1U9mI5Y
Changing the design template, card size, or wording to accommodate a 2nd party are NOT considered a revision.
► Please scroll to bottom for full list of FAQ's about your order
▬▬▬▬▬▬▬▬▬▬▬▬▬▬▬▬▬▬▬▬▬▬▬▬▬▬▬▬▬▬▬▬▬▬▬
----------------- ►►► ENVELOPES AND MATERIALS ◄◄◄ -----------------
▬▬▬▬▬▬▬▬▬▬▬▬▬▬▬▬▬▬▬▬▬▬▬▬▬▬▬▬▬▬▬▬▬▬▬
► WHERE TO FIND ENVELOPES ◄
You can find envelopes at Office Max, Staples, Walmart, etc. Stationary stores have the colorful packs of envelopes I've noticed. You can also google '4x6 envelope', for instance, and a plethora of choices will appear and some websites offer free shipping.
Envelopes for 4x6 Size - Called A-6 4.75" x 6.5"
Envelopes for 5x7 Size - Called A-7 5.25" x 7.25"
BEST PLACE TO GET COLORFUL, INEXPENSIVE ENVELOPES!
http://www.invitationoutlet.com/blankenvelopes.html
▬▬▬▬▬▬▬▬▬▬▬▬▬▬▬▬▬▬▬▬▬▬▬▬▬▬▬▬▬▬▬▬▬▬▬
------------------------ ►►► THE FINE PRINT ◄◄◄ ---------------------------
▬▬▬▬▬▬▬▬▬▬▬▬▬▬▬▬▬▬▬▬▬▬▬▬▬▬▬▬▬▬▬▬▬▬▬
Please note all items are for PERSONAL USE ONLY. File sharing sharing, distributing, or selling the designs, or ANY elements within them is strictly prohibited. When purchasing a product you agree to use the designs for personal use only. Commercial use is not allowed. 17 U.S.C. 106(3), 17 U.S.C. §109(c). Many of the IMAGES AND all DESIGNS were created by The Printable Occasion and are protected under domestic and international copyright laws according to 17 U.S.C. Section 501.
PINTEREST... http://www.pinterest.com/MyDIYParty
BLOG ... http://theprintableoccasion.blogspot.com
FACEBOOK ... http://www.facebook.com/ThePrintableOccasion
Thank you for visiting my shoppe today!
✻´¨)
¸.•´¸.•*´¨) ¸.•*´¨)
(¸.•´ (¸.•´ ✻ The Printable Occasion. © All Rights Reserved.