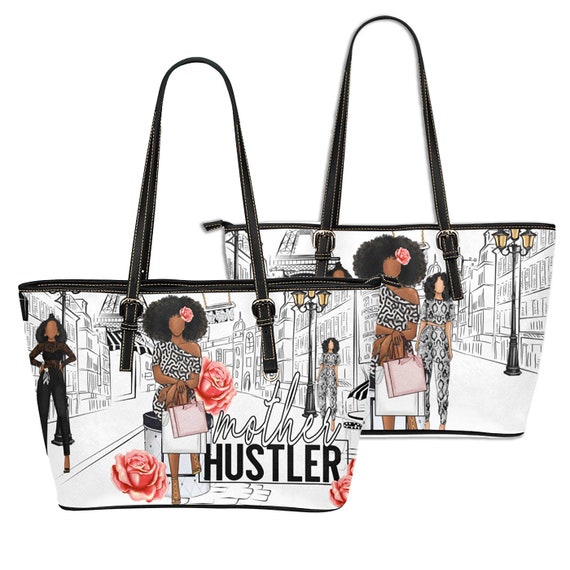 Tote Bag, Mother Hustler Leather Tote Bag. PU Leather Tote. Black Girl Magic, Black Girl Tote
By Chic N Crafty
Product Info
Faux Leather Tote Bag/Large
Mother Hustler tote is a exclusive design created by Oyana Faith and part of my Mother Hustler Collection that can be found here https://tinyurl.com/5d7xbfc2
For the Mother/Woman that's a total boss. Celebrate her achievements & new beginnings with this beautiful Faux Leather Tote
I am an entrepreneur.
I can do anything and I've proven that time and time again!
I don't make excuses... I find solutions.
I tune out the noise and get to work.
I am focused and I WILL build the business of my dreams.
I am on a mission and nothing is going to stand in my way.
I am a force to be reckoned with.
I... am a success!
She owns a business.
She minds her business.
She 'bout her business.
She is ME and I AM SHE!
Hellooooo Mother Hustler. Stand up & take a bow!
This tote is very generous in size. Note the measurements in the second picture
• Made from High-grade PU leather.
• One Inner zipper pocket on back wall and two slip pockets.
• Single zippered top inside closure.
• Faux leather straps
SHIPPING & PRODUCTION TIME
**Processing time is 3-5 business days (excluding holidays)
**Shipping is 10-15 business days (excluding holidays)
Keep in mind that shipping carriers are still experiencing shipping delays due to Covid-19
CHECK ME OUT ON SOCIAL MEDIA (Stop by and say HI. I love meeting new people)
Facebook.com/OyanaFaithLLC
Instagram.com/OyanaFaithLLC
Twitter.com/OyanaFaithLLC
www.pinterest.com/OyanaFaithLLC
Woman Owned Business
Black Owned Business