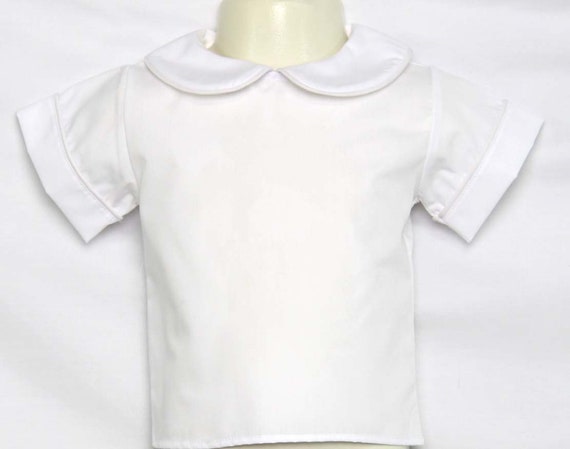 Toddler Boy Clothes with Peter Pan Collar, Sibling Shirts or Baby Boy Dress Shirt, Infant Boy Shirt 292436
By Zuli Kids
Product Info
Baby boy shirt for infant and toddler shirts will go under any Christmas Jon Jon to make one cute outfit from our kids boutique. Our baby shirts can be made to match any of our John Johns that you choose.
White dress shirt has white piping.
Baby Boy Shirt | Baby Boy Dress Shirt |Infant Shirts | Toddler Shirts | Baby Boy Clothes | Baby Boy Outfit | Baby Shirts
If a collar has red piping or any other color piping it will sometimes fade. Always wash shirt in your washer by itself on small load with 1 cup of vinegar to set the color and keep the red or other colors from fading on the white collar. We are not responsible for garments not washed correctly.
Approximate Measurements are:
Size...............Chest..............Length
PM...................9 in...............8.25in
NB..................9.25 in...............9 in
3 Mo................9.75 in..............9.5
6 Mo................10.25................10 in
9 Mo................10.75 in.............11 in
12 Mo..............11.25 in............11.75 in
18 Mo...............11.5 in.............11.5 in
24 Mo................11.75 in..........12 in
2T......................12.25 in...........12.75 in
3T......................12.75 in...........13.25 in
4T......................13.25 in...........14 in
Baby Boy Shirt - Baby Boy Dress Shirt - Baby Clothes - Baby Boy Clothes - Infant Shirt - Toddler Shirt - Twin Shirts - Baby Wear