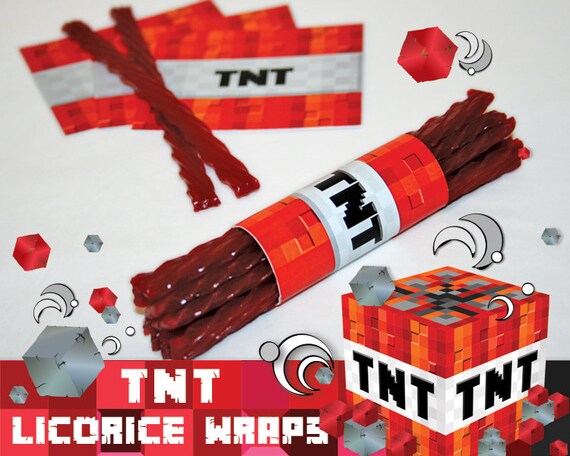 TNT Licorice Labels | Mine Party Birthday TNT Licorice Wrappers | TNT Labels | Instant Download Party Printable
By HelloDerpy
Product Info
Wrap your LICORICE in TNT LABELS - Instant Download for DIY Party Printing
Make your mining themed party memorable with these adorable TNT Licorice Wraps. My red, orange and gray pixelated TNT label is the perfect packaging for your licorice party favors.
DIY!!! Please note that no physical products will be sent to you. My liquorice wraps measure 3 x 3.65 inches, sized to hold 5-10 twizzler sticks.
Want more TNT Party Prints? See my full set of TNT Party Printables at: https://www.etsy.com/listing/584233558/tnt-thank-you-tag-tnt-licorice-wraps
• • • DIGITAL SHIPPING • • •
Once payment has been completed, you will receive a link via email to download your order. Please note that no physical product will be shipped to you, this listing is for a digital high resolution (.jpg) file which you print, preferably on 8.5 inch x 11 inch coated card stock. Each printed page will yield 6 TNT licorice wraps.
The download link will automatically be sent to the email address registered to your Etsy account. Please double check that your Etsy email address is up to date. Emails are generally received within minutes of the order being placed.
Your downloads may also be accessed at any time by viewing your Etsy purchases page.
You may print as many copies as you wish. Feel free to take these files to your favorite printer (Walmart, Kinkos, Costco, etc...), or print at home.
I'm here to help with anything you need along the way. Kindly note this is original HelloDerpy pixel art and is for personal one-time use only. These graphic are not authorized for resale or redistribution in any digital or printed formats.
♥ Get to know HelloDerpy & HeyDerp! We are two homeschooled children exploring the world of computer-assisted graphic design, java coding, technology and computer science. Our designs have been created with the help of our mentor & mum. Your kids can watch HelloDerpy and HeyDerp play Minecraft® on our YouTube channels at:
HelloDerpy: https://www.youtube.com/channel/UCnwzSlK5wlvcjfQfm6mi6PA
HeyDerp: https://www.youtube.com/channel/UC7dJs6nMCgY1LaKKu6PFutQ
Thanks for shopping with us, we hope your party is a BLAST!!!
• • • • • • • • • COPYRIGHT NOTICE • • • • • • • • •
Although me (HelloDerpy) and my brother (HeyDerp) are avid Minecraft gamers and YouTube personalities, we are in no way affiliated with Minecraft. This is not an official product of Minecraft and it is not approved, endorsed or associated by/with Mojang AB. I do not sell or claim any ownership of any official Minecraft product or Minecraft assets as they belong to their respective copyrights owners and have no relationship or association with me (HelloDerpy) of any kind. Items purchased from HelloDerpy.com are for personal use only and are not to be re-sold for any reason.
All items shown here featuring Minecraft characters (i.e.: Creeper) are free and can be downloaded in high resolution, ready to print CMYK format, directly from https://helloderpy.com/minecraft (no further action, purchase or payment necessary). If you would prefer, convo me through Etsy with your email address and I will email the Creeper gift tag file directly to you. If you are interested in purchasing the HelloDerpy & HeyDerp products, or need any assistance with these product, you need to contact me for product information or purchasing information, as I (HelloDerpy) digitally manufacture this item and sell it. HelloDerpy.com is not Mojang, is not associated with Mojang and is not endorsed by Mojang. Mojang does not assume any responsibility of any kind for this product or this sale.