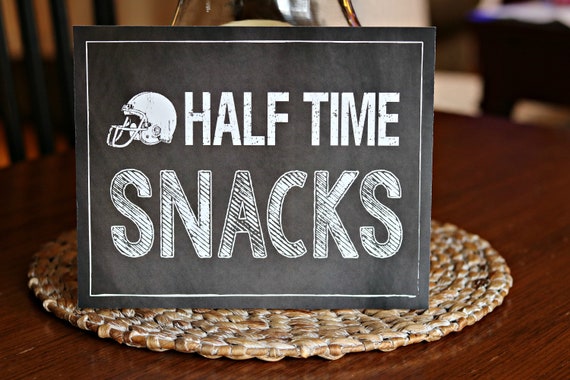 HALF TIME SNACKS, Football Birthday Party Decorations, Printed Sign, All Star Sports, Boy Birthday, Sports Birthday, Sports Party Decor
By Charming Touch Parties
Product Info
Let us add a CHARMING TOUCH to your event with our Sports Birthday Party Decorations.
This listing includes the following CUSTOM MADE items:
1. Professionally Printed Sports Party Signs (choose Text and Size in the checkout process)
Choose From:
a. Game Time
b. Half Time Snacks
c. Ready Set Eat
d. Water Break
e. Concession Stand
f. Penalty Flags
e. Autographs
g. Super Bowl Rings
h. Get Your Game Face On
i. Locker Room
Printed Posters are printed on rich, smooth poster paper with a matte finish. We will be printing the sign on our standard heavy weight card stock paper. The sign is not sturdy enough for display on its own, so you will want to frame it or attach it to a sturdy backing, such as a foam board or canvas board. The 5x7, 8x10 and 11x17 Printed signs will arrive shipped FLAT. The 16x20 or 18x24 posters will come rolled for easy shipping.
Note: If you'd prefer the printable/digital/DIY file, please choose from one of the following size options:
5x7 Digital File:
https://www.etsy.com/listing/1409805757/birthday-party-decorations-5x7-party?click_key=0b82ad7729677f5afdbdc151e8c53c0fdbf971bf%3A1409805757&click_sum=e6629af4&ref=shop_home_active_7&sts=1
8x10 Digital File:
https://www.etsy.com/listing/1395587870/birthday-party-decorations-8x10-party?click_key=a811a6fdf38b3f7f0a4d44dc84ce3a7e1493820c%3A1395587870&click_sum=dd05d3a2&ref=shop_home_active_6&sts=1
11x14 Digital File:
https://www.etsy.com/listing/1409807405/birthday-party-decorations-11x14-party?click_key=5f5562c7df70bd35e2554d01a0b441d59afe0a0c%3A1409807405&click_sum=6d7eb292&ref=shop_home_active_5&sts=1
16x20 Digital File:
https://www.etsy.com/listing/1409808045/birthday-party-decorations-16x20-party?click_key=f61e2d883b9d74103c534e9a73b40d9c03aea99d%3A1409808045&click_sum=57994d3a&ref=shop_home_active_4&sts=1
18x24 Digital File:
https://www.etsy.com/listing/1409808629/birthday-party-decorations-18x24-party?click_key=2cc58db86c33d731f8d16d65fd246e6b95e04835%3A1409808629&click_sum=5bf7268a&ref=shop_home_active_3&sts=1
24x30 Digital File:
https://www.etsy.com/listing/1395590708/birthday-party-decorations-24x30-party?click_key=40eec39b867949a285325a3ff4c0054b2e495220%3A1395590708&click_sum=511e3430&ref=shop_home_active_2&sts=1
36x48 Digital File:
https://www.etsy.com/listing/1395591296/birthday-party-decorations-36x48-party?click_key=93e7611d7890aae566a92e2e6d322b4a29abf3f4%3A1395591296&click_sum=28216a0d&ref=shop_home_active_1&sts=1
We can create any and ALL of the following items to coordinate with this theme:
Invitations
Welcome Door Sign
Happy Birthday Banner
12 Month Photo Banner (pennant/printed photos)
12 Month Photo Banner (die cut, attach your own photos)
High Chair Banner ("ONE" or "I Am One")
Decorative Rosettes
Centerpiece Sticks (Layered, Rosette, or 5x7 Sign)
Floral Sticks
Cake Topper
Cupcake Toppers
Cupcake Wraps
Party Signs (5x7, 8x10, 11x17, 16x20)
Chalkboard "Favorite Things" Sign
Wish Cards
Straws & Straw Flags
Embellished Paper or Clear Plastic Cups
Water Bottle Labels
Party Boards
Food Tents
Favor Tags
Cake Pop Tags
Popcorn/Treat Cups
Appetizer Picks
Coordinating Thank You Notes
Fabric Fringe Bunting
Birthday Party Hat
Customized Menus
Customized Napkin Wraps
Table Number Signs
Questions about what any of these items are? Want to change colors or text? Just message us!
Check out the rest of our charming decor options in our shop, found here:
https://www.etsy.com/shop/CharmingTouchParties?ref=hdr_shop_menu
All decorations are custom designed and hand-made by Charming Touch Parties. Materials (such as paper, ribbon, straws, etc.) shown may vary slightly depending on availability from suppliers