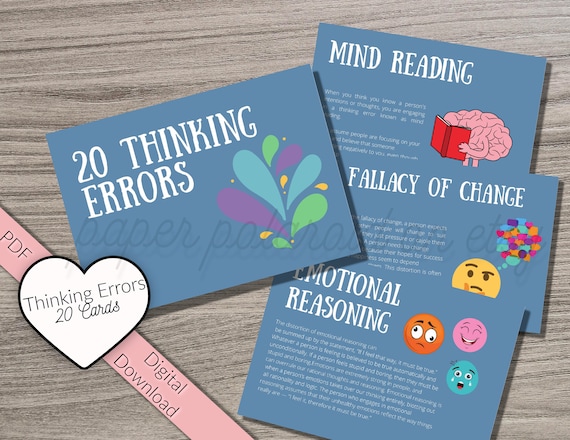 20 Thinking Errors Self-Help/CBT/Schema Therapy Cards cards printables. Self Help Cards anxiety depression. dbt bpd ptsd, mindfulness tools
By Paper Polaroid
Product Info
♥ Hello there! Thanks for stopping by :)
When you're feeling worried or stressed, would you say your thoughts are mostly positive or negative?
If you're like most people, negative thoughts run rampant and you might feel that you have trouble controlling them.
Some people who suffer from anxiety or depression say they wish they could "shut off" their thoughts.
Often, it is actually these thoughts rather than the specific incident or situation that is causing the anxiety or depression in the first place.
What Are Thinking Errors Or Cognitive Distortions?
Thinking errors are faulty patterns of thinking that are self-defeating. They occur when the things you are thinking do not match up with reality. This is sometimes also referred to as cognitive distortions. Those who commit thinking errors often don't realize they are doing so.
Why Is It So Important To Understand Thinking Errors?
People with anxiety and low self-esteem are susceptible to getting caught in an endless loop of negative thinking. It is important to take stock of your thoughts because the cycle they spur can end up becoming a self-fulfilling prophecy.
For example, a person who thinks that people don't like him or her might start to have physical symptoms such as sweating at the very idea of being immersed in a social situation. As a result, the individual avoids parties and other gatherings, which makes him or her feel left out and eventually causes more negative thoughts such as "something must be wrong with me." The cycle then continues, leaving the person feeling depressed or anxious. If the initial thought is dealt with appropriately, the entire cycle of negativity that follows it can be avoided.
These cards can help you recognize distorted thoughts. Recognizing is half the battle in thwarting a trigger or a cycle of negativity, the goal is then to replace those thoughts with more balanced ways of thinking.
These thinking errors can be strong habits that you engage in subconsciously, and a cognitive behavioural therapist can help you address specific issues and give you the tools needed to change your thoughts for the better.
Item is an INSTANT DOWNLOAD that contains 6 PDF pages (20 cards) cards measure 4.6"x3.2", high quality files as pictured in listing.
You can print them as large or as small as you need them to be.
I INCLUDED A FREE DOWNLOAD JUST FOR YOU WITH THIS PURCHASE :)
PLEASE CONTACT ME WITH ANY QUESTIONS YOU MAY HAVE !
ALWAYS STRIVE TO BE KIND TO YOURSELF, YOU ARE VALUABLE.
No physical item will be shipped.
TERMS OF USE:
*NOT FOR COMMERCIAL USE
*Only For Personal Use
*DO NOT resell or share work
*Unlimited amount of personal copies can be made
©2019 Paper Polaroid. Copyright Paper Polaroid
All designs, images and text are copyrighted and can only be used for personal uses ONLY, and CANNOT be stored,reproduced,or used for commercial reproduction or resale or used.