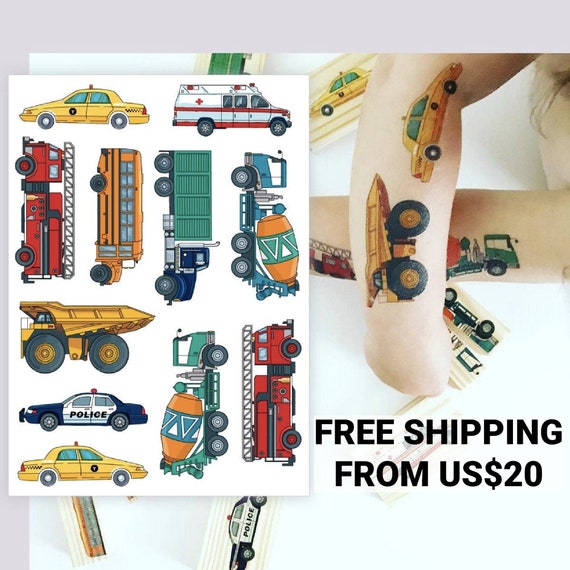 Transport temporary tattoo transfers. Taxi, emergency ambulance, fire engine, school bus, truck, cement-mixer, police car body stickers.
By DUCKY STREET
Product Info
FREE SHIPPING ON ORDERS OVER US$20!
High quality, designy, skin safe, kids friendly and long lasting temporary tattoos from trusted 5 star rated DUCKY STREET Etsy store.
Designed by DUCKY STREET creative director and main designer Maria Kalyagina exclusively for our store.
You will get big tattoo sheet 15x21 cm with 11 vehicles tattoos!
Made using the professional technology:
* Skin safe and non toxic
* NO NEED to cut close to the edge of the design: we use stencils in the process of applying glue.
* Really long lasting: 3-4 days
* Water resistant. Don't worry about your tattoos in the shower, bath, pool and sea!
* Vivid colors that do not go dark
* Easy to apply: remove film / apply / wet / hold / remove paper.
* Easy to remove with baby oil
More details, pictures and related tattoos at our website:
https://duckystreet.com/products/traffic-1
Subscribe to our newsletter and be the first to know about new releases, special offers and sales:
https://mailchi.mp/duckystreet/subscribe
You will get big tattoo sheet 15x21 cm with more then 15 tattoos!