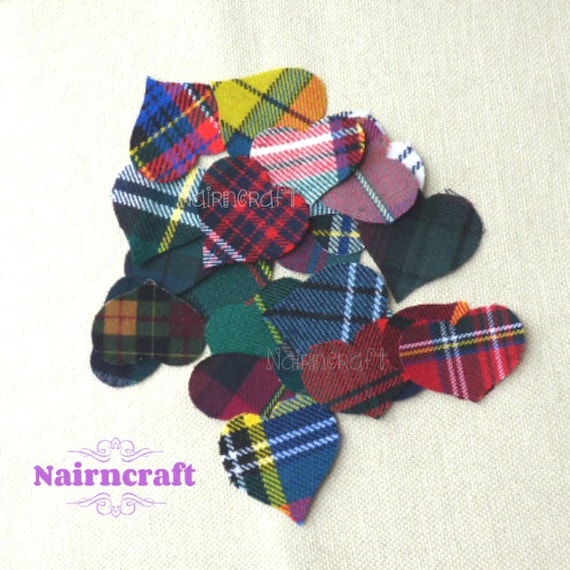 Tartan Plaid Heart Applique Patches you get 20 pieces of Cut Out Multi Coloured Sew On Heart Embellishments
By Nairncraft
Product Info
Hearts - Applique - Patches - Cut Outs - Multi Coloured - Mix of - Tartan - Plaid - Fabric - 20 pieces - Cut Out - Sew On - Embellishments
Hi,
Here is a little piece of Scotland.
These Wee Scottish Hearts.
This listing is for 20 pieces of Multi-Coloured Mix of
Scottish Tartan Wool Fabric, Die Cut, Hearts.
There are 20 Hearts of Approximately 2-inch High by 2-inches Wide
and Approximately 1 1/2-inch High by 2-inches Wide.
You will receive a good mix of the two sizes, some are fused ready to iron on and some are not.
THESE ARE ARE NOT BADGES.
They are a mix of Multi-Coloured Tartan Plaid Wool Fabric as the one in the picture although may not be the exact pattern...

There are Lots more Handmade, Tartan, Cotton and Lovely Harris Tweed, Cutouts, Appliques & Patches in my Etsy Shop
https://www.etsy.com/uk/shop/Nairncraft?ref=hdr
Uses
ELIMINATES HOURS OF CUTTING.
Would look adorable on a fashion cushion, quilt, blanket, or wall hanging, pillow tops or pillowcases, bath towels, PJ's, robes, burp cloths, totes, nappy bags, duffel bags, kids curtains, jeans, shirts, jackets, kids hoodies, T-shirt, sweat-shirt, vests, scarves, kitchen towels, potholders, table runners, aprons, appliance covers, crafts, patchwork, pictures, photo albums, lampshades.....
Shipping Policies.
https://www.etsy.com/uk/shop/Nairncraft?ref=hdr_shop_menu#policies
Take a look at some of my other fabric patches:-
https://www.etsy.com/nairncraft/listing/254222703/
https://www.etsy.com/nairncraft/listing/251935831/
https://www.etsy.com/nairncraft/listing/241714294/
https://www.etsy.com/nairncraft/listing/246159094/