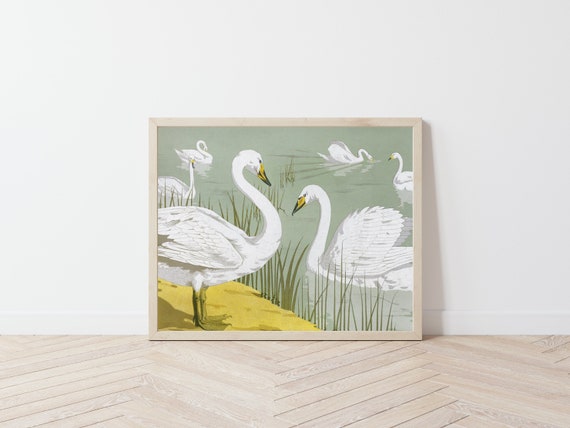 Swans Art Print - Vintage Eclectic Lake Scene Painting Picture / Living Room Home Wall Decor / Teal and Gold Art Painting Poster
By Paper Mango
Product Info
☽ you'll get
This reproduction print is of the highest possible quality and printed on lustre Kodak Endura professional-grade paper, the best paper in the industry. Once the print is complete, we run it through a unique finishing process to emboss the texture directly onto the photo paper, giving it a subtle canvas look.
☽ about the art
Swans by Maurice Pillard Verneuil
He was born in Saint-Quentin, France. Maurice Pillard Verneuil learned his trade from the Swiss designer Eugène Grasset. Maurice Pillard Verneuil then went on to become a well-known artist and designer. He was inspired by Japanese art and nature, particularly the sea. He is known for his contribution to the art deco movement and, in particular, his use of bold, floral designs in ceramic tiles, wallpapers and other furnishing textiles.
His designs covered both the Art Nouveau and Art Deco periods subsequently transitioning into his much acclaimed geometric patterns. Verneuil also produced numerous poster works in France alongside the well-known artists such as Toulouse-Lautrec and Chéret. Other collaborators included Armand Point, René Juste, Alfons Mucha and Mathurin Méheut.
After the First World War, he moved to Geneva, and then, from 1921 to his death to Rivaz where he lived with his third wife, Adélaïde Verneuil de Marval, who was also a painter and the photomodel he used for his portfolio, "Images d'une femme", in the 1930.
In 1925, Maurice Pillard Verneuil and his wife Adélaïde Verneuil de Marval worked together on the portfolio Kaleidoscope.
He trained many artists including Amédée Ozenfant. In 1923, he embarked with his wife Adélaïde Verneuil de Marval on a long voyage to the Far East, including visits to Cambodia, Indonesia, and Japan.
☽ you frame it
No frame included. Shop frames here: https://tinyurl.com/vz762ht or your local thrift shop.
Thank you for shopping Ruby Dahlia!