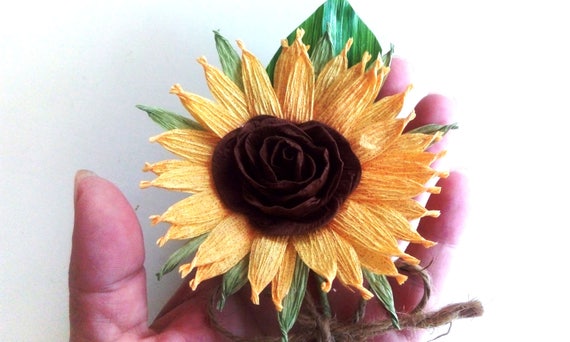 Sunflower wedding, crepe paper flower, buttonhole corsage, boutonniere Rustic, bridal Baby Shower bridesmaids Burlap wedding decor
By flower4you
Product Info
Sunflower wedding crepe paper flowers buttonholes/ corsage Bridal bridesmaids corsage Rustic paper flowers bridal corsage Sunflower paper flowersb Baby Shower Corsage Burlap flowers
THIS LISTING is for 1 paper Sunflower corsage or boutonniere with ribbon or burlap
Аll colors are available!Please tell me exactly what colors you want ?
Please add your quantities below and let me know what stem wrap you would like such as the twine shown or a colored ribbon.
Measurements: 4 inches diameter
as you see on photoes (different colors are available!)
Made from high quality crepe paper.
Can also be - mothers Corsage, bridal corsage, cuff bracelet corsage, wrist corsage, flower bracelet, Baby Shower Corsage
NOTE! You should contact me before buying this Boutonniere for clarifying time terms!
CUSTOM ORDERS ARE ALWAYS WELCOME! Different colors are available! I can do the wedding set for you: bridal bouquet, bridesmaids bouquets, decorations on the table, etc., all in the colors you choose!
I'll carefully pack in a strong carton.
**If you want a different size than listed, let me know and we will make pricing adjustments!**
For more Wedding Decor, Click here:
https://www.etsy.com/shop/flower4you?ref=hdr_shop_menu boutonnieres,Sunflower wedding, mens wedding, wedding flowers, wedding decor, boutonniere, Sunny boutonniere, wedding decoration, paper flower, Sunflower flowers , crepe paper bridal flower wedding buttonhole , paper flower bridal , bridal corsage , crepe paper bridal flower , Burlap Favor decor Rustic crepe paper mothers Corsage bridal corsage, cuff bracelet corsage, wrist corsage, flower bracelet Baby Shower Corsage baby shower guest pins
Sunflower Corsage, bridal corsage, wedding Corsage, Sunflower Corsag wit Ivory ribbon, Bridal corsage , wedding corsage ,Sunflower wedding, mens wedding, wedding flowers, wedding decor, boutonniere, Sunny boutonniere, wedding decoration, paper flower, Sunflower flowers , crepe paper , bridal flower , paper flower bridal , bridal corsage , crepe paper bridal flower , Burlap Favor decor, Rustic , crepe paper, mothers Corsage, bridal corsage, cuff bracelet corsage, wrist corsage, flower bracelet, Baby Shower Corsage, baby shower guest pins , Sunflower Bridal corsage, wedding corsage, paper flower, mothers corsage , Sunflower paper flowers, Baby Shower Corsage, Burlap, Sunflower , for Weddings or Proms , flower girls