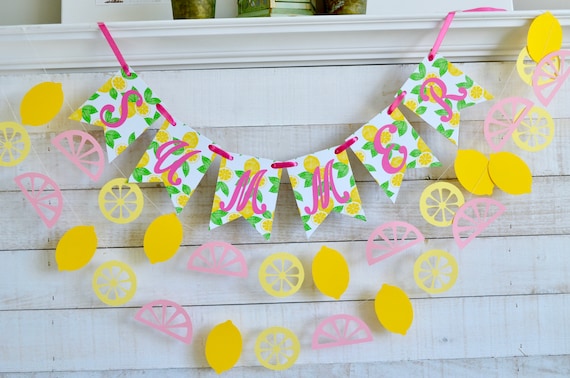 Summer Banner, Lemonade Banner, Lemonade Party Sign, Summer Bunting, Pink and green Summer decorations, Lemonade stand
By SunnyBanners
Product Info
It's time to celebrate summer! This hello summer banner is a lovely addition to a covered porch or to decorate for a summer barbecue. The colors are bold and fun and will be sure to brighten any space. Having a lemonade stand; add this lovely banner to brighten up your stand.
This banner is made on 4x5 inch chipboard; yes I said chipboard - not flimsy cardstock which can fold. The chipboard has a print of lemons on it against a white background. The font is done in a bright pink and I strung the banner with hot pink satin ribbon. The banner is displayed with an 8 1/2 foot long garland that is made with lemons, lemon slices and pink lemon halves. The bright yellow lemons measure 3.7 x 2.4 inch. The light yellow lemon slices measure 2.9 x 2.9 inch and the pink lemons halves measure 4 x 2.3 inch.
Choose which item you want from the drop down menu; either garland of lemons only, banner only or both banner and garland.
Get the banner in different colors by choosing the following; that's only if you want to change the colors.
Font color:
Ribbon color:
Garland of lemon color: (choose up to 3 only:
Please place your color choices in "Note to seller" box when checking out.