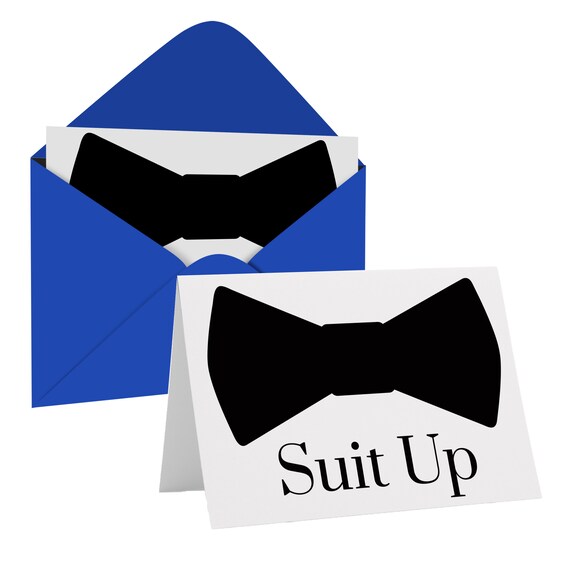 Suit Up Cards and Blue Envelopes (8 Pack) Inviting Groomsman - Best Man Proposal – Fun Way to Ask - Wedding Attendants Ushers – Graduation
By Paper Clever Party
Product Info
You popped the question, she said "yes"! Now it's time to let the gentlemen know it's official. With this pack of suit up cards you can invite your best man and groomsmen to join you on your journey from single to hitched. Suit up cards are folded, and each package has 8 cards with matching envelopes. Premium quality cards are 4bar size.
Printed with a masculine bowtie and simple black lettering that says, "suit up" on the front of card. The inside of each card is blank, this way you can write your own personal message to each person on your bridegroom attendant list. Groomsmen cards are scored making it easy to fold and place in envelopes when you are done personalizing. Best part these suit up cards are bride approved, they will not clash with her wedding theme or bridesmaid cards.
Additionally, you can purchase these stylish cards for other formal events. Not just for wedding, some favorite ways to use these cards include graduation party, prom, big 40, retirement, or any formal styled event where you want your guests in formal only for the occasion. Groomsmen and Best Man cards are never out of style and always versatile enough that you can use them for a variety of ways to ask. Cheers!