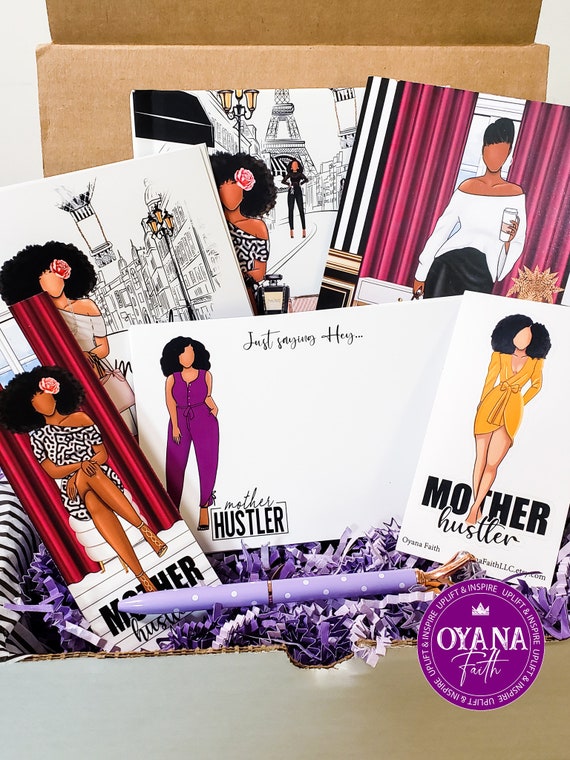 Stationery Set, Journal & Note Card Gift Set, Mother Hustler, Business Woman, Black Girl Magic
By Chic N Crafty
Product Info
For the Mother/Woman that's a total boss. Celebrate her achievements or new beginnings with this beautifully put together gift box set.
I am an entrepreneur.
I can do anything and I've proven that time and time again!
I don't make excuses... I find solutions.
I tune out the noise and get to work.
I am focused and I WILL build the business of my dreams.
I am on a mission and nothing is going to stand in my way.
I am a force to be reckoned with.
I... am a success!
She owns a business.
She minds her business.
She 'bout her business.
She is ME and I AM SHE!
Hellooooo Mother Hustler. Stand up & take a bow!
▬▬▬▬▬▬▬▬▬▬▬▬▬▬▬▬▬
WHAT'S INCLUDED:
▬▬▬▬▬▬▬▬▬▬▬▬▬▬▬▬▬
✦Lined Page Journal (75 Pages)
✦5x7 Greeting Card
✦(3) 4x6 Notecards w/Envelopes
✦(6) 4x6 Flat Notecards w/Envelopes
✦Double Sided Bookmark
✦"Diamond" Pen
✦BONUS Mother Hustler Sticker
*Actual colors may vary from those shown due to the nature of photographing and monitor color settings.
PRODUCTION/PROCESSING TIME
Production & Processing time is 2-3 business days plus 3-5 days transit time (depending on your location and the postal service).
▬▬▬▬▬▬▬▬▬▬▬▬▬▬▬▬
INTERNATIONAL SHIPPING
▬▬▬▬▬▬▬▬▬▬▬▬▬▬▬▬
When a package ships internationally, it may be subject to import taxes, customs duties, and/or fees imposed (e.g. handling fees) by the destination country. These charges are typically due once the package arrives in the destination country.
In general, THE BUYER is responsible for paying the additional costs such as duties, taxes, and customs clearance fees. These charges can vary widely and are often based on the price and type of item, package weight and dimensions, origin country, and the taxes, duties, and fees of the destination country.
I can't predict which of these fees, if any, will be applied, and Etsy doesn't expect sellers to calculate or collect these fees or taxes. I am NOT responsible for any additional charges that may apply after a purchase is completed on Etsy.
Woman Owned Business
Black Owned Business
Gift Box, Gift Basket, Gift boxes, Gift box for her, Self care gift box,
Birthday gift basket, Gift set, Gift box for women, Mom gift box,
Friend gift box, Best Fried Gift, Gift baskets for women, Gift basket for women, Gift boxes for women
CHECK ME OUT ON SOCIAL MEDIA (Stop by and say HI. I love meeting new people)
Facebook.com/OyanaFaithLLC
Instagram.com/OyanaFaithLLC
Twitter.com/OyanaFaithLLC
www.pinterest.com/OyanaFaithLLC