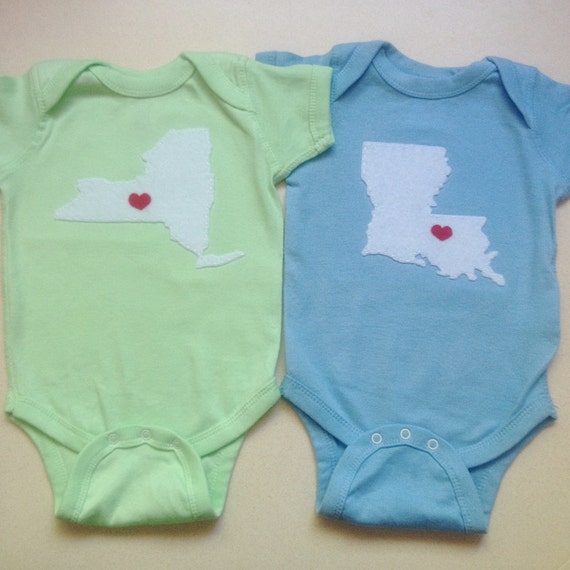 Newborn heart state, baby love state, Any State or Country- Heart at Home Baby Bodysuit
By Ellie Shea
Product Info
Represent home with a heart over any state or country for a newborn or baby gift. Remember where the love is, whether that is home, where grandma and grandpa live, a loved one is stationed, or just a special place to you. 100% cotton baby bodysuits feature a hand-stitched felt appliqué that is personalized to your specifications. The state (or country) of your choice will feature a red or pink heart over the town or city you indicate. The inside is lined with a protective layer for a smooth feeling against the child's skin.
Pink, green, blue, and black bodysuits will have a white state silhouette, which can be changed to another color if you prefer.
So that your order is not delayed, please remember to include the state/country of your choice, as well as city/ zipcode for the heart location with your order.
Colored bodysuits (Rabbit Skins Brand) Size Chart is approximate
NB Age 0-3 month, 18-21 inches, 5-9 pounds
6M Age 3-6 month, 22-24 inches, 10-16 pounds
12M Age 6-12 month, 25-28 inches, 17-20 pounds
White bodysuits in 0-3m (8-12 lb), 3-6m (12-16lb), 6-9m (16-20lb), 12m (20-24lb) are available through this link:
https://www.etsy.com/listing/499421762/any-state-or-country-heart-at-home-baby?ref=shop_home_active_1
T-shirt options start at 12 months and are available through this link:
https://www.etsy.com/listing/235335612/your-state-or-country-heart-at-home?ref=shop_home_active_37
*********************************************************************
For more ideas and to hear about coupon codes, pleases follow me on instagram and facebook- @eliesheapics
Feel free to message me with any questions you may have so we can build your perfect gift!