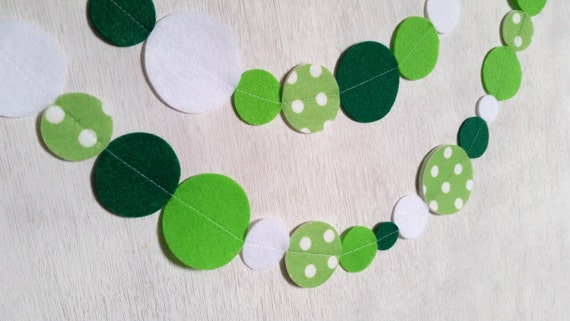 SALE St Patricks Day Irish Garland with Green Polka Dot Felt
By A Felt Affair
Product Info
Feeling a little lucky? Good for you! Celebrate with a little bit o' green, polka dotty fun!
I have loved this polka felt for a long time. I finally broke down and bought some, and I am so happy that I did! I've sewn together a festive garland, perfect for brightening up any space! Use it for:
-St. Patricks's Day Decor
-Birthday Party Decor
-Photography Prop
-Storefront Decoration
-Hang across your mantle
-Swoop up a staircase
This garland is made from eco-friendly cuts of felt in circle formation. There is a variety of green, white and green polka dot felt. The polka dot felt will be sewn with two pieces back to back, so that there won't be a plain white side. Each circle measures an inch to about 2 1/2 inches in diameter. The garland is about 7 feet in length. There is an additional foot or so of baker's twine on each end to make hanging super easy!