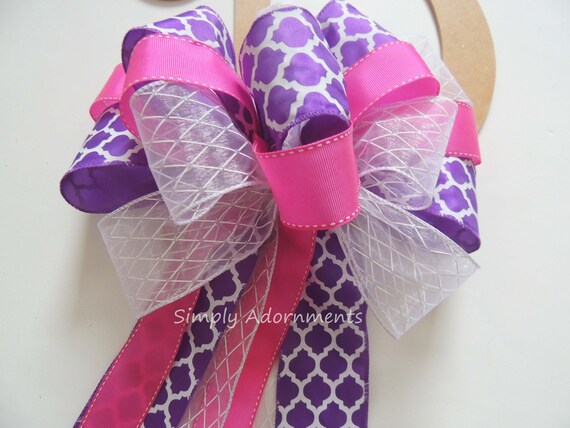 Spring Pink Purple wreath Bow, Summer Wreath Door Bow, Purple Pink Spring Lantern swag Bow, Gift Bow, wreath Embellishment, Door Hanger Bow
By Simply Adornments
Product Info
Spring Pink Purple wreath Bow, Summer Wreath Door Bow, Purple Pink Spring Lantern swag Bow, Gift Bow, wreath Embellishment, Door Hanger Bow.
This listing is for the BOW ONLY, the WREATH and WOODEN LETTER are NOT INCLUDED.
This bow uses three wire-edged ribbons. They are 1.5" and 2.5" wired ribbon. This particular bow is 10"W and has 6 varying tails. Please select the tails length before checking out.
This bow would add an awesome celebratory decoration at home, parties or receptions. It's perfect additional decoration for tied back curtains, wreaths, door hangers, lantern, swag, garlands, gift tables, chairs, gift baskets and many more places that you want to draw attention, as an interesting view or a special marked area. Also, the wire-edged ribbon bow can be stored and re-used at the same, or other events, or even as gift bows since they are portable, and can be easily stored and reshaped.
NOTE:
* All of my bows are securely tied with florist wires and finished with chenille stem for easy attachment. We also provide pew clips for an additional charge of $1.00 each plus shipping.
** IF YOU WOULD LIKE TO PURCHASE MORE THAN WHAT WE HAVE LISTED, PLEASE LET US KNOW AND WE'LL SET UP A CUSTOM LISTING FOR YOU TO PURCHASE.
*** WE PROVIDE CUSTOMIZED BOWS PER YOUR REQUEST. WE CAN TAILOR THE BOWS TO YOUR SPECIFIC REQUIRED SPECIFICATIONS, SUCH AS RIBBON VARIATIONS (color, pattern, size, etc), TULLE, STYLES, WIDTH, LENGTH, NUMBER OF TAILS, ETC... If you're interested, please send us an email for detailed pricing information.