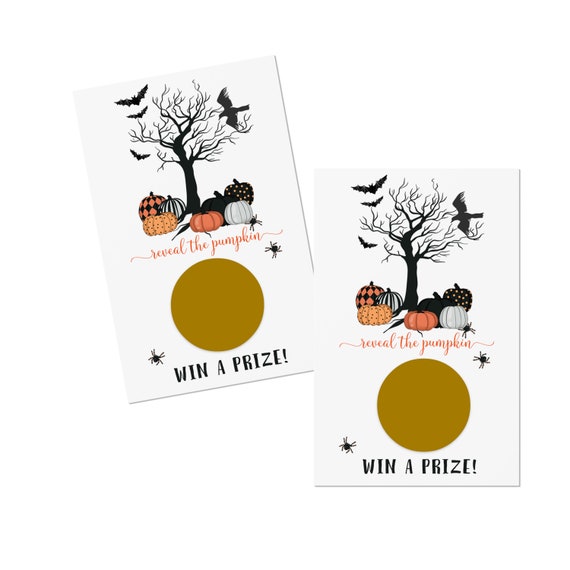 Spooky Halloween Scratch Off Game Cards (28 Pack) Bewitching Party Raffle - Festive Fall Events - Business Giveaways - Pumpkin Baby Shower
By Paper Clever Party
Product Info
How fun is this set of scratch off game cards? Your guests are going to enjoy the idea of scratching the cards to see if they have the winner! Guests can compete to see who wins the prize with a quick and easy party activity. Scratch off cards are a great way to add some enjoyment to the event you're planning.
WHY PRINTED SCRATCH OFF CARDS?
• 28 GAMES CARDS PER PACK – 25 LOSERS + 3 WINNERS
• Winning cards are packed separate from losing cards
• Durable, sealed and ready to play
• Professionally printed digital press prints
• Finished Game Card Size 2" x 3.5" with design in full-color
• Arrive at your door ready to impress your guests
• No hassle with DIY or printing on your own
WE MAKE IT EASY TO ORDER – simply select the how many scratch off game card packs you desire add to cart! Baby shower games are crafted in-house and ship in 1-2 business days, arriving to you in 2-3 days.
METICULOUSLY PACKED & READY TO PLAY– scratch and win cards come with 3 winners, and packed individual from losers. This allows you to decide how many prizes to have on hand at the gathering when you plan to use your scratch-off cards.
At Paper Clever Party we are serious about quality, we only use foil sticker seals that are durable to ensure the seals don't get scratched before you are ready to play. Let guests know they may or may not be able to scratch with their nails, use a key or sprinkle around some shiny pennies or quarters near your scratch off games like confetti.
Scratch off cards have so many unique uses and are a nice change from the traditional baby shower, wedding or party activities. Use your scratch off cards as an ice-breaker, for diaper raffles, drink prizes at weddings, tie-breakers to other games, for boutique giveaways, as a door prize and so much more.
Paper Clever Party, LLC®| All Rights Reserved