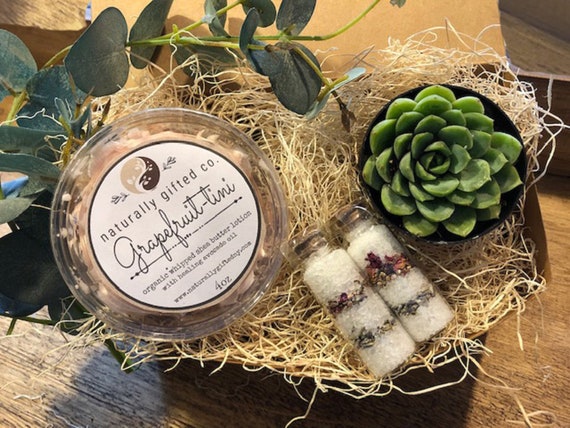 Spa Gift Set, Spa Gift Box, Spa Gift, Bath Set for Her, Birthday Spa Gift, Gift for Her, Relaxation gifts, Birthday Gift, Gift for Mom
By Naturally Gifted
Product Info
The perfect mini spa gift for your friend, mom, sister or anyone for a relaxing night free of stress.
Awesome as a gift for someone or just as a treat for yourself.
Whipped shea butters are made of the finest Shea Butter , from the Shea tree in Ghana Africa,
Cocoa Butter, Coconut Oil and other natural oils.
This skin-softening lotion has a drizzle of AVOCADO OIL to cleanse, exfoliate, and hydrate all at once.
This luxurious cream is great for all skin types and gentle enough for every day use.
It contains vitamin E, D, and A which improves the elasticity of the skin and prevents aging.
It significantly reduces fine lines and wrinkles. The presence of the
compound allantoin aids in soothing skin dryness, rashes, and itchiness.
Here are a few other benefits of organic shea butter in our products:
Reduces Inflammation
Smooths Skin
Moisturizes Dry Skin
Reduce Appearance of Fine Line
*************************************
Theraputic Salts
Mineral rich herbal bath salts, muslin tea bags for effortless clean up to set the mood for a serene soak in the tub. This intentional moment in bathing is sure to send you into a state of restorative bliss over and over again!
Natural salts and minerals have been used for thousands of years in for medicinal, beautification
and natural healing purposes. And while it all may seem like one and the same, there are
some distinct differences between the many kinds of natural salts. Two of the most lauded
are Dead Seas salts and Epsom salts.
This intentional moment in bathing is sure to send you into a state of restorative bliss over and over again!
Pour your bath salts directly under the stream of hot water for a more natural bath or pour your
bath salts into the provided muslin tea bag, then close and drop in to create a bath tea. Before
stepping in, take a deep breath, clear your mind and read the paired positive affirmation scroll.
This will set the mood for your thoughts and create a mindful bathing experience.
Uplift your spirit with Enliven Coconut Basil Bath Dead sea salt, * sweet basil leaves,
*coconut flakes, *sweet basil essential oil.
Strengthen your spirit with Fortify Mango Peppermint Bath
Detoxify your spirit with Harmonize Juniper Berry Grapefruit Bath
Tranquility with rose petals and soothing lavender seed
**************************
This box includes:
Handmade Whipped Shea Butter scrub or lotion in your choice
- Freshly grown succulent in 2.5 inch pot in our greenhouse
- 2 Rose and Lavender Salt Tubes
- Personalized greeting card from You
PLEASE NOTE - BE SURE TO INCLUDE YOUR GIFT MESSAGE IN THE MESSAGE BOX AT CHECKOUT
We ship directly to your loved one & your personal greeting.
NOTE: Please include your personal greeting in the message box at checkout and be sure to update the ship to address app
Spa Gift, Birthday Spa Gift, Birthday Gift, Sister birthday gift, Friend Birthday Gift, Cheer Up Gift, Thinking Of You Gift, Friend gift