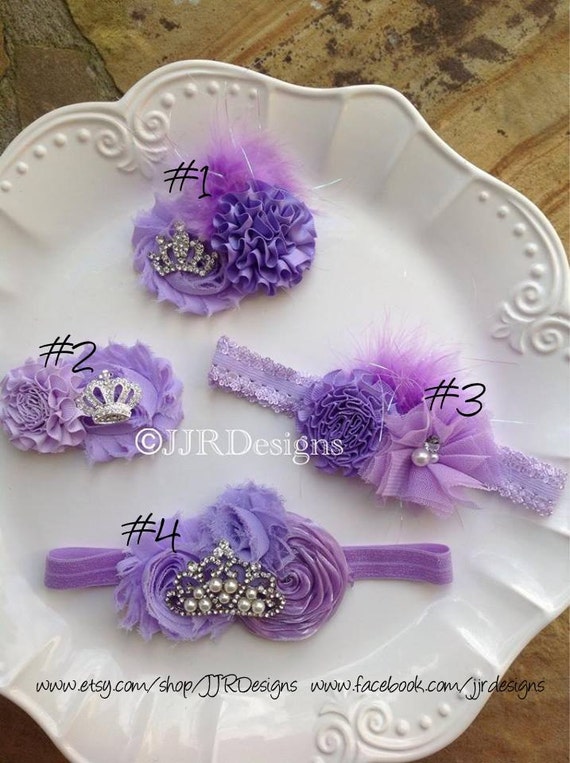 Sofia Headband-Sofia the First Inspired Headpiece- Sofia the First Inspired headband- Sofia the First Inspired-Tiara- Tiara Headband
By JJRDesigns
Product Info
Gorgeous Sofia the First inspired headband/headclips! I can also do SOFIA BOTTLE CAPS ON SHABBIES FOR HEADBAND!
The lace headband can be adjusted, but you can choose FOE or Purple Skinny Elastic as well.
EACH HEADBAND HAS A DIFFERENT PRICE!!!!
Headband #1= $8.50 (Beautiful sparkly rhinestone Princess Crown Approx. 33mm- Stones: Grade AAA Glass Rhinestone Crystals .
Headband #2= $8.00.
Headband #3= $8.50 - with purple lace headband unless otherwise specified. This grosgrain ribbon rosette will be substituted with the rosette from the first headband. The right side flower, puff and headband remain the same as the photo.
Headband #4= $13.25 (4 available- with purple FOE as pictured unless otherwise specified)
(Large Crystal Pearl Rhinestone Embellishment. Superb crystal clear stones Approx. 53mm- Stones: Grade AAA Glass Rhinestone Crystals and Glass Pearls on top of the shabbies)
****You can get with a PURPLE rolled flower, or WHITE rolled flower.****SPECIFY AT PULL DOWN MENU.
I use premium rhinestones for the crown centers!
*****AT CHECK OUT SPECIFY ON CLIP OR PURPLE FOE OR SKINNY ELASTIC HEADBAND OR STANDARD LACE HEADBAND AS SHOWN IN HEADBAND #3. #4 MIGHT BE TOO BIG FOR A CLIP*****IF YOU DON'T SPECIFY FINISH I WILL PUT ON PURPLE FOE***
If you select purple foe, the sizing will be as follows:
NEWBORN- 13"
3-6 MONTHS- 15"
6-12 MONTHS- 16"
Toddler-Adult- 17"
GET YOUR MATCHING CHUNKY SOFIA NECKLACE!
https://www.etsy.com/listing/166839170/princess-sofia-inspired-girl-necklace?ref=shop_home_active
https://www.etsy.com/listing/157817502/princess-sofia-inspired-girl-necklace?ref=shop_home_active