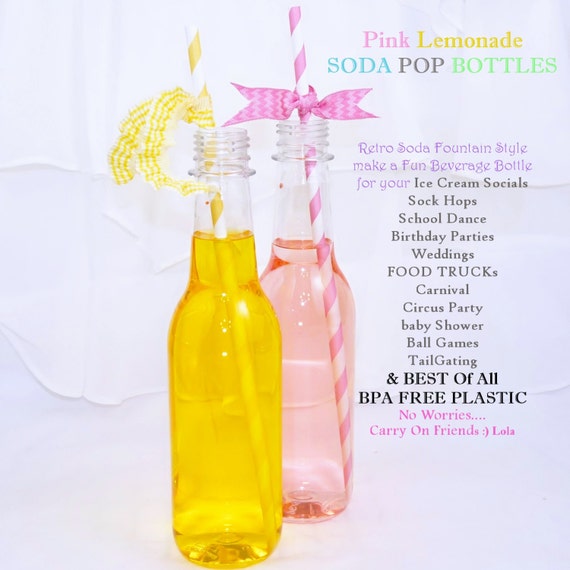 SODA BOTTLE Plastic set of 6 Plastic BPA Free - ReTrO Style SoDA Bottles -Un-Breakable p.e.t. Plastic, SodA Shop 50's Sock Hops & Drive in
By Lola's FaNcY Party Shop
Product Info
BRAND NEW ! And Oh So RETRO!
Set of 6 Clear Plastic Soda Bottles 10oz
*** BPA FREE (read info below)
(picture shown is using 'Lola's 10 1/2" Tall paper Straws) Available in Our Paper party Straw section @ Lola Loves A Party See LINK Below...
TALL Paper STRAW LINK :
http://www.etsy.com/listing/102292548/30-long-yellow-striped-straws-with-diy?ref=shop_home_active
Size is just under 8" Tall and 2 1/8" width across bottom with 10/16" opening at top
ADD If Needed***_White Plastic Caps are Ribbed with PE Liners. these have a foam liner that once the cap is
Simply twit on the cap and the inner Foam Liner will SEAL The Bottle until it's ready to Open & Enjoy!....
These are Food Grade / Dairy / Commercial Beverage Supplies... Just as Purchased by Your Favorite "BRAND/ LABEL" Dairy and Drinks in Every Market and Grocery.
NOW Lola has a NEW Twist for YOUR Homemade Beverages / Cocktails and Food Items.
below is Information on ALL My Plastic Food and Beverage Supply...I get these directly from the same manufacturer as
Pet Dairy, Kraft Foods, Bristol Myers...etc...
There has been a lot of confusion about what is in our plastic containers since concerns were raised about the safety of polycarbonate products containing bisphenol-A (BPA). Recent campaigns in Canada, Europe and the United States have also suggested that all single-serve plastic bottles are harmful to the environment. Sometimes it's hard to know if there's any such thing as a good, safe plastic.
Facts on PET is a coordinated effort to provide accurate information on one of the most common types of plastic we encounter on a daily basis, polyethylene terephthalate (PET). PET (also known as PETE) plastic products are designated by the recycling code "1." Most single-serve plastic bottles, including those for water, soft drinks and juices, are made with PET, which does not contain BPA. PET is globally recognized as a safe, recyclable packaging material.
__________________________________________________________________________________________________________________________________________________________________________________________________________________________________________
***PLEASE See SHIPPING INFO***
____________________________________________________________________________________________________________________________________________________________
*NOTE, Other items shown in pictures Are NOT INCLUDED with this listing