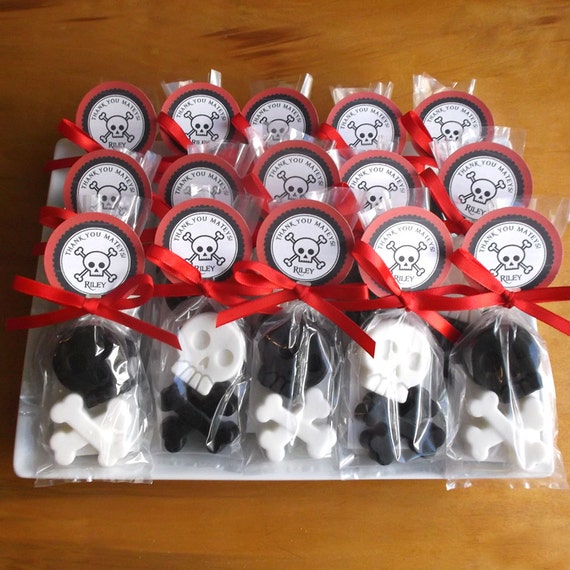 Pirate Party Favors - Pirate Favors, Pirate Party, Pirate Birthday Party, Pirate Soap, Skull Crossbones - Set of 20
By The Bath of Khan
Product Info
Each skull soap favor includes 1 skull and 1 crossbones soap. Skull soap favors are unique and will add to your pirate party decor. Pirate party favors are sure to be a hit at your pirate party. Also great for a punk princess party, monster birthday party, sugar skull party, or Halloween party. Great for encouraging kids to wash their hands. Skull soap favors are also make unique wedding and bridal shower favors for a Halloween wedding.
LIMIT TWO COLORS AND ONE SCENT PER 10 ORDERED.
Set of 20 skull soap favors. Each order comes with 20 soap favors (40 soaps in total, 2 per bag).
Skull and crossbones soaps weigh approximately 1.25oz total
Skull and crossbones soaps measure approximately 1.75" x 1.5"
Packaged in a cellophane bag with a ribbon and "DO NOT EAT" tag.
TAG & RIBBON OPTIONS:
Because we do not offer bulk discounts, to make these favors affordable for all budgets we offer 2 different tag & ribbon options:
TAGS & RIBBONS:
This is our most popular option! All soaps are packaged in a cellophane bag with a fabric ribbon, "DO NOT EAT" tag and favor tag. With this option, your soap favors come to you assembled and ready to give your guests upon delivery.
NO TAGS:
This option is perfect for a low budget! With this option all soaps are wrapped in a cellophane bag with a "DO NOT EAT" tag and fastened with curly ribbon. You can remove the curly ribbon and replace it with your own fabric ribbon. Tags are NOT included.
** If all of your custom info is not received, your tags and ribbons will be coordinated with your order and the soap will be scented in "Birthday Cake", a customer favorite. **
CUSTOM INFORMATION:
When checking out please provide the following information in the "NOTES TO" section:
1) Message for your custom tags. Choose a tag from the 5th picture.
2) Your party date to be sure they arrive in plenty of time for your event.
3) Scent - Choose from:
Almond Biscotti - Toasted almonds, sweet cake flour and drizzled chocolate.
Baby Powder - This soft powdery scent smells just like baby powder. (kid favorite)
Berries & Cream - Strawberry and raspberry with rich cream. (kid favorite)
Birthday Cake - Rich, creamy vanilla and cake. (kid favorite)
Cotton Candy - Just like at the fair. (kid favorite)
Cherry Almond - A sweet mix of cherries and almonds.
Coconut - Toasted coconut.
Cucumber Melon - A fresh blend of melon and cucumber.
Dreamsicle - Orange and vanilla cream, just like an orange creamsicle.
Energy - Citrus; grapefruit, lemon, lime, cucumber, jasmine, pineapple, blackberry, champagne.
Fruit Smoothie - Melons, pineapple, acai berry, nectarine, guava, pomegranate, grapefruit.
Lavender - Clean, fresh, and calming. The true aroma of lavender!
Lemon Ice - Zesty sugared lemon.
Monkey Farts - Banana, grapefruit, orange, kiwi, coconut, raspberry, strawberry, apple. (kid favorite)
Strawberry - Sweet strawberry. (kid favorite)
Vanilla - A sweet, rich vanilla.
Watermelon - Juicy watermelon. (kid favorite)
Vegan & Cruelty Free! Not tested on animals.
See all of our soap here: https://www.etsy.com/shop/TheBathofKhan
Like us on facebook for exclusive offers:
https://www.facebook.com/thebathofkhan
Tracking information will be e-mailed to you when your order ships.
Ingredients: Glycerin (kosher, of vegetable origin), Coconut Oil, Palm Oil, Safflower Oil, Purified Water, Sodium Hydroxide (saponifying agent), Sorbitol (moisturizer), Sorbitan oleate (emulsifier), Oat protein (conditioner), Fragrance, Titanium Dioxide, Color/Iron Oxide/Mica. May contain FD&C/D&C colorants.