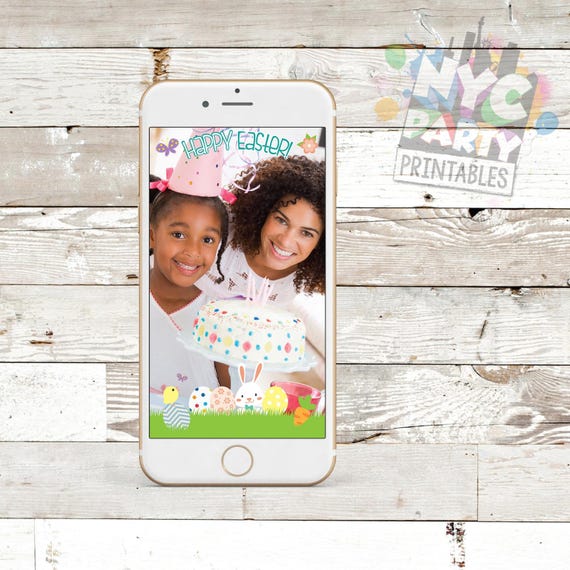 Easter Party, EASTER Snapchat, EASTER Filter, Instant Download, Snapchat Filter, Easter Snapchat Filter, Easter Geofilter, Easter Egg Hunt
By NYC Party Printables
Product Info
Instantly download this Easter Themed SnapChat Filter . Use this festive Easter On Demand SnapChat filter at your next event and blow your guests away. How to order? What to do? See below for instructions.
:::::::::::::::::::::::::::::::ORDERING IS SIMPLE::::::::::::::::::::::::::
1. Add this to your cart, at checkout...
2. Etsy will provide a download link, download and follow instructions to upload on Snapchat. Document attached below is in .png format.
The filter listed will be the one you will receive to download at checkout.
-This listing does not include posting of the Snapchat GeoFilter – it is only the image that you will need to submit (PNG format), you will have to visit Snapchat's OnDemand website to get your filter uploaded. Q
:_:_:_:_:QUICK ON SNAPCHAT DEMAND GUIDE:_:_:_:
1 Go to: https://www.snapchat.com/on-demand
2. Click "CREATE NOW" and "LOG IN" to your snapchat account
3. Follow the instructions needed that Snapchat provides. Please be aware you should submit your filter at least 24 hours ahead of your event.
The cost of having your filter go live your will vary depending on the date and location (size) of the cost for publishing the GeoFilter. Starting at about $5.00 USD for about 20, 000 square feet.
Not an advertising for Snapchat nor am I affiliated in anyway with Snapchat.