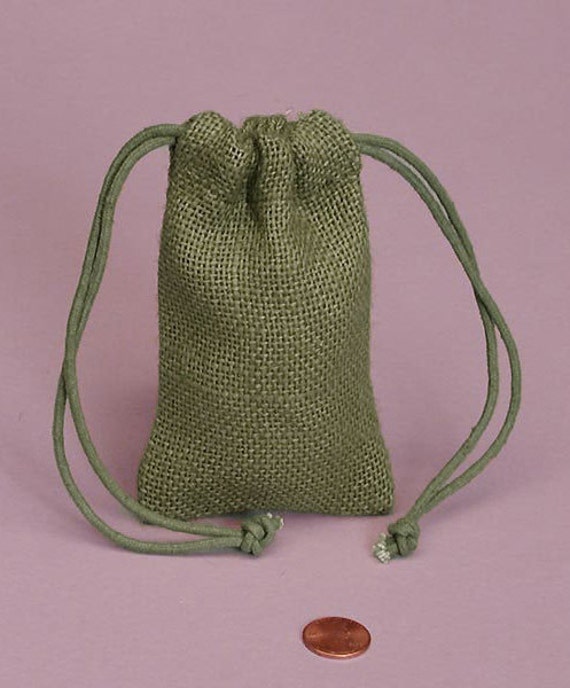 Green Bags Small Moss Green Burlap Jute Pouches, Rocks Bag, Pouches for Women, Men, Green Pourch, Green Bags
By Party Surprise, Etsy
Product Info
Beautiful Moss Green Pouches
Small moss green burlap pouches. Bags are closed with a fabric pull cord. Due to the fact that this material is stretchy and bags are handmade, size may vary up to 1/4" larger of smaller than stated.
A wholesome, natural look. Wonderful for so many uses - kids toys, marbles, jewelry, trinkets, coins, rock collectors, lipstick, nail polish, and party favors.
Measures 5"H x 3"W
REVIEWS ON THIS ITEM:
"I want to add something to bling them up but they are really nice!", Fire Girl
"Adorable, and arrived very fast!", Sonya
"I truly can't say enough good words for not only the product but the seller too. The bags are terrific. The seller went above and beyond for me." Just C.
"I liked these small functional bags so much I had to purchase more. Seller is great to deal with.", Just C.
5 STARS, Letty
********************************
HOW TO ORDER:
* Go to the Drop Downs in the Order box
* Select the number of bags you want, add to your cart
* Repeat to add more items
********************************
Don't forget your balloons, balloon arch/garland kits, photo prop sets, fancy straws, tableware sets, mini popcorn boxes, Euro gift bags, gift/favor/treat bags, tissue tassel garlands & balloon tails, custom wedding confetti wands, party tableware, disposable cutlery, cake toppers, and cupcake toppers & wrappers - I have what you want!
Balloon color and size charts here:
www.etsy.com/shop/PartySurprise?ref=hdr_shop_menu&search_query=color+chart
Confetti Balloons & Table Confetti:
www.etsy.com/shop/PartySurprise?ref=shop_sugg§ion_id=25395318
Hot Air Balloons:
www.etsy.com/shop/PartySurprise?ref=shop_sugg&search_query=hot+air+balloon
Balloon arches/garlands:
www.etsy.com/shop/PartySurprise?ref=shop_sugg&search_query=garland
Photo Prop Sets:
www.etsy.com/shop/PartySurprise?ref=shop_sugg§ion_id=22959761
Disposable Cutlery:
www.etsy.com/shop/PartySurprise?ref=shop_sugg&search_query=cutlery
Fancy Straws: www.etsy.com/shop/PartySurprise?ref=hdr_shop_menu§ion_id=14449328
Party Tableware:
www.etsy.com/shop/PartySurprise?ref=shop_sugg§ion_id=15478643
Mini Popcorn Boxes: www.etsy.com/shop/PartySurprise?ref=hdr_shop_menu§ion_id=15478643
Tassel Garlands: www.etsy.com/shop/PartySurprise/items?ref=pagination§ion_id=19770755
Custom Number Cards:
www.etsy.com/shop/PartySurprise/items?ref=pagination§ion_id=19936436
Cupcake Wrappers: www.etsy.com/shop/PartySurprise?ref=hdr_shop_menu&search_query=cupcake+wrappers
Cupcake Toppers: www.etsy.com/shop/PartySurprise?ref=hdr_shop_menu&search_query=cupcake+topper
Favor and Treat Bags: www.etsy.com/shop/PartySurprise?ref=hdr_shop_menu§ion_id=14448891