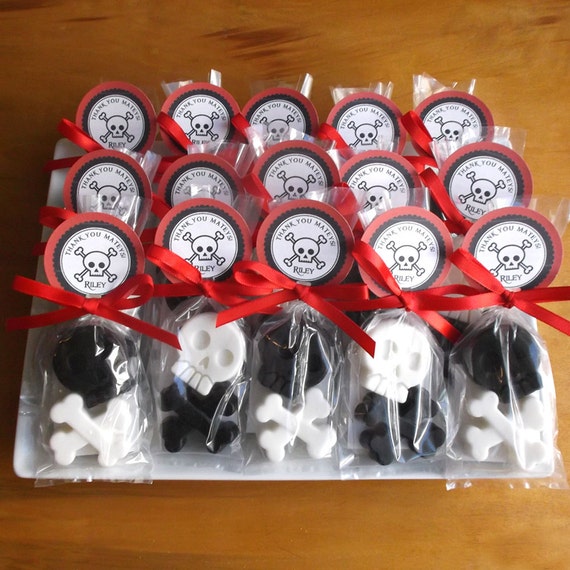 Pirate Party Favors - Pirate Party, Pirate Favors, Skull & Crossbones, Pirate Soap Favors - Set of 10
By The Bath of Khan
Product Info
Ahoy Matey! Pirate party favors are unique, will add to your decor, and are sure to be a hit at your pirate party. Pirate party favors are also great for a monster birthday party or sugar skull party! Each pirate party favor includes a skull soap and a crossbones soap.
Set of 10 pirate party favors. Each order comes with 10 soap favors (20 soaps in total, 2 per bag).
Soaps weigh approximately 1.25oz total
Soap measures approximately 1.75" x 1.5"
Packaged in a cellophane bag with a ribbon and "DO NOT EAT" tag.
TAG & RIBBON OPTIONS:
Because we do not offer bulk discounts, to make these favors affordable for all budgets we offer 2 different tag & ribbon options:
TAGS & RIBBONS:
This is our most popular option! All soaps are packaged in a cellophane bag with a fabric ribbon, "DO NOT EAT" tag and personalized favor tag. With this option, your soap favors come to you assembled and ready to give your guests upon delivery.
NO TAGS:
This option is perfect for a low budget! With this option all soaps are wrapped in a cellophane bag with a "DO NOT EAT" tag and fastened with curly ribbon. You can remove the curly ribbon and replace it with your own fabric ribbon. Tags are NOT included.
** If all of your custom info is not received, your tags and ribbons will be coordinated with your order and the soap will be scented in "Birthday Cake", a customer favorite. **
CUSTOM INFORMATION:
When checking out please provide the following information in the "NOTES TO" section:
1) Message for your tags. Choose a tag from the 5th picture.
2) Ribbon color(s).
3) Your party date to be sure they arrive in plenty of time for your event.
4) Scent - Choose from:
Baby Powder - This soft powdery scent smells just like baby powder. (kid favorite)
Berries & Cream - Strawberry and raspberry with rich cream. (kid favorite)
Birthday Cake - Rich, creamy vanilla and cake. (kid favorite)
Cotton Candy - Just like at the fair. (kid favorite)
Coconut - Toasted coconut.
Cucumber Melon - A fresh blend of melon and cucumber.
Energy - Grapefruit, lemon, lime, cucumber, jasmine, pineapple, blackberry, champagne.
Fruit Smoothie - Melons, pineapple, acai berry, nectarine, guava, pomegranate, grapefruit.
Lavender - Clean, fresh, and calming. The true aroma of lavender!
Strawberry - Sweet strawberry. (kid favorite)
Vanilla - A sweet, rich vanilla.
Watermelon - Juicy watermelon. (kid favorite)
See all of our soap here: https://www.etsy.com/shop/TheBathofKhan
Like us on facebook for exclusive offers:
https://www.facebook.com/thebathofkhan
Vegan & Cruelty Free! Not tested on animals.
Tracking information will be e-mailed to you when your order ships.
Ingredients: Glycerin (kosher, of vegetable origin), Coconut Oil, Palm Oil, Safflower Oil, Purified Water, Sodium Hydroxide (saponifying agent), Sorbitol (moisturizer), Sorbitan oleate (emulsifier), Soy bean protein (conditioner), Scent, Titanium Dioxide, Color/Iron Oxide/Mica. May contain FD&C/D&C colorants.