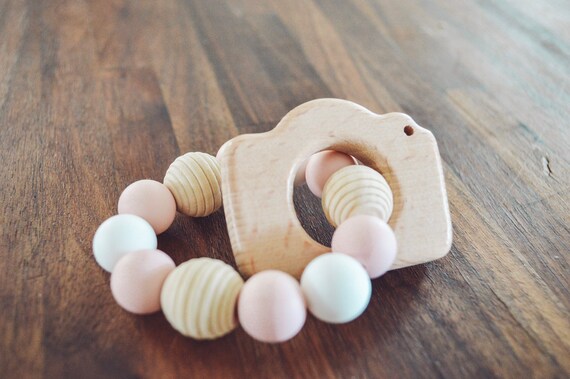 Product Info
Silicone and Wooden bead baby teether with wooden animal attached for rattle!
WHEN ORDERING: Pick the two primary colors you want to use in your teether. We'll send you a picture of the design/pattern we create for your BEFORE we assemble for your approval. Once you approve the photo we'll move to production! Please send us a message if you have a specific pattern in mind! We are here to create for you!
Get the best for your baby today! Each teether design is hand picked to match your style! We use neutral colors (great for boy or girl) in unique designs so no rattle is like the next! Truly a custom design for your special little one! The soft Silicone beads soothe gums, while the wooden honeycomb beads and animal shape help teeth easily break through their little gums. It's the perfect present topper for and baby shower gift or for that special momma that needs their baby to have a distraction!! SIMPLE + NATURAL = THAT'S ALL THEY WANT AND NEED!
Food grade silicone beads, Natural wood honeycomb Beads, natural wooden animal shape
Baby rattle – silicone teether toy.
The best food grade silicone beads combined with Natural wood beads, splinter free. Size is 3" in diameter - great for baby to hold in both hands.
* FOOD-GRADE silicone made especially for baby accessories.
* Scent and taste free.
* FDA Approved.
* BPA FREE
* Lead FREE
* 100% NON-TOXIC
* Mercury FREE
So much better and preferred than plastic toys containing chemicals and toxins!
*** Clean with soapy water and air dry ***