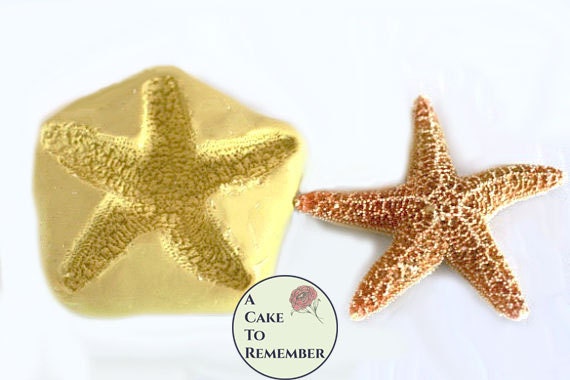 Silicone 3" starfish Mold for cake decorating, polymer clay shell mold, resin or soap seashell mold, fondant starfish mold M1034
By A Cake To Remember LLC
Product Info
3" wide Silicone starfish mold to make a realistic starfish to use on cakes or cupcakes or for beach wedding cakes. The silicone is food-grade, but if you're using it for food don't use it for other purposes as well.
This could be used for gumpaste, fondant, chocolate or poured sugar. Safe up to 350 degrees Fahrenheit. If you use it for polymer clay it shouldn't also be used for food items!
The starfish is about 3" from tip to tip. I made this mold from a real starfish, so there's a ton of detail on it. Great for a beach-themed cake.
For a video on how to color these, go here: https://www.youtube.com/watch?v=4grInVI7q_o&list=UUDru9n0gVtJlapF93R1npSw
The starfish in the photo with the mold is the real starfish, and the other one is chocolate fondant with gold luster dust brushed onto it. Brushing a darker color base with a lighter color will bring out the details and give you a realistic look.
If you're looking for a tiny starfish mold, try this listing: https://www.etsy.com/listing/120875913/silicone-starfish-mold-for-cake
Or for a medium one, go here: https://www.etsy.com/listing/127635174/silicone-2-starfish-mold-for-cake
These molds work best with gumpaste or a stiff fondant. Soft fondant won't work in the molds because it will stretch when it's removed and lose the shape and details.
To see my main shop page click here: http://www.etsy.com/shop/acaketoremember
Click here to sign up for my newsletter to get coupons and notices of new products http://tinyurl.com/pg3y85b