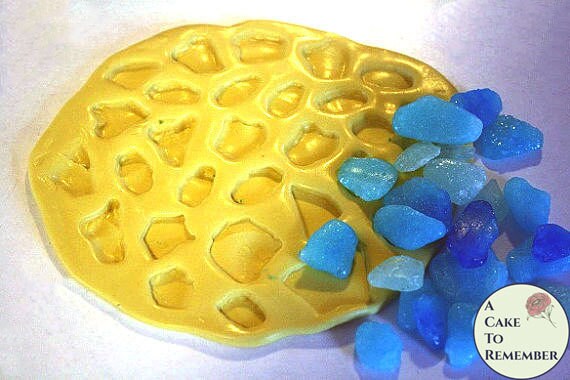 Silicone sea glass mold for cake decorating, chocolate mold, hard candy, polymer clay, resin mold, wax mold, silicone mould M1011
By A Cake To Remember LLC
Product Info
For faster shipping, upgrade to priority at checkout.
Silicone sea glass mold for making sugar or isomalt sea glass. Each mold is about 5"x5" approximately, and each one is different. They all contain about 25-30 cavities depending on the size of the glass I used to make each one.
The cavities make sea glass that is from 1/4" to 1" wide, most pieces are about 1/2" wide and between 1/8" to 1/4" deep.
This mold makes pieces that are relatively shallow, and may not work well with poured soap. For a mold for soap embeds, use this link for one that has about 1/4" deep cavities: https://www.etsy.com/listing/452024284/
I make these molds from real sea glass that I've collected and saved, not from tumbled glass from the craft store!
This makes edible sea glass that's perfect for beach-themed wedding cakes, or any other type of ocean-themed cake. Using a mold will give you a better look than just breaking pieces of sugar up, and will avoid sharp edges.
It can also be used with gumpaste, fondant or chocolate. If you use it for polymer clay, don't use it for food as well!
You can pour hot sugar syrup directly from the pan into the mold, it will be fine for temperatures up to 325 degrees F.
If you want to buy pre-made sugar sea glass for cake decorating, you can use this listing: https://www.etsy.com/listing/118149240/edible-sea-glass-sugar-sea-glass-for
If you'd like to get pre-cooked isomalt that's ready to be reheated and used, use this listing: https://www.etsy.com/listing/115738521/pre-cooked-isomalt-for-cake-decorating?ga_search_query=isomalt
I make each one to order and will ship them out within two working days of the order being placed, if not sooner!These molds work best with gumpaste or a stiff fondant. Soft fondant won't work in the molds because it will stretch when it's removed and lose the shape and details.
To see my main shop page click here: http://www.etsy.com/shop/acaketoremember